Biden Administration Asks Supreme Court To Reject Harvard Affirmative Action Case
The lawsuit from Asian American students claims that Harvard makes it easier for Black and Latino students to gain admission.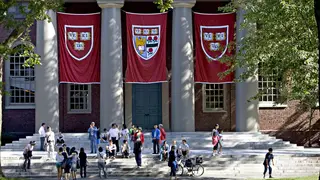 The Biden administration backed Harvard University's race-conscious admissions process in a brief filed Wednesday (Dec. 8) to the U.S. Supreme Court, urging the justices to reject the appeal from an organization that wants to end the use of affirmative action in the school's admissions process.
Students for Fair Admissions (SFA), founded by anti-affirmative action activist Edward Blum, is appealing two lower court decisions that favored Harvard's practice of considering a student's race as a factor in admissions, a practice that the Supreme Court in 2003 said is constitutional.
In 2014, the organization sued Harvard and the University of North Carolina at Chapel Hill, alleging that their admissions process violated the civil rights of high-achieving Asian American applicants, according to the Associated Press.
In June, the high court asked the Biden Justice Department to give its opinion on the case, as the previous Trump Justice Department opposed Harvard's admissions process.
According to CBS News, Solicitor General Elizabeth Prelogar wrote that SFA "cannot justify that extraordinary step" of reversing the Supreme Court's 2003 decision, arguing that the case is a "poor vehicle" for reconsidering the court's landmark affirmative action decision.
Prelogar also noted that the high court has previously cited Harvard's admissions approach as a model for other institutions to follow.
"Those decisions have invited colleges and universities to rely on the permissibility of a holistic, flexible approach like Harvard's as a benchmark in structuring their own admissions policies," Prelogar wrote. "It would profoundly unsettle expectations to declare retroactively that such reliance subjects those institutions to Title VI liability."
Blum, reacting to the DOJ's brief, said it "regrettably advocates for the continuation of racial classifications and preferences in college admissions," and urged the court to hear the Harvard and UNC case, Reuters reported.
Harvard spokesperson Rachael Dane said there was no need for the Supreme Court to review the lower court decision, according to the Ivy League school's newspaper The Crimson.
"The United States rightly reaffirms that all universities, including Harvard, should have the freedom and flexibility to consider race, as one factor among many, to create the diverse campus communities essential to their educational missions and to the success of their students in the workplace and the world," Dane stated.