Lil Baby Funds A Birthday Party For George Floyd's Daughter
The children of Rayshard Brooks were there too.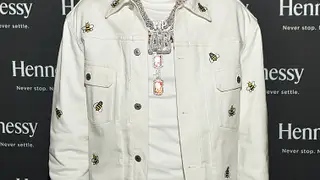 Lil Baby helped throw a birthday party for George Floyd's daughter, Gianna, on Dec. 16 who turned 7-years-old. 
The celebration for Gianna was organized by Atlanta restaurant owners Ericka and William Platt, along with NBA star Stephen Jackson. Lil Baby reportedly funded the celebration.
"This is a very difficult time for my daughter," Gianna's mother, Roxie Washington, said in a statement to Forbes, "so we're very grateful that our extended family is creating such a special experience for Gianna on her first birthday without her father."
It occurred at the Pink Hotel in Atlanta and was a LOL Surprise Dolls-themed event. Forbes reports that the event's organizers had begun planning for the party as far back as July. 
Ericka and William are owners of Restaurant Ten and Rosie's Cafe and are  also good friends of the Floyd Family. Jackson, who is  one of the leading voices in the Justice for Floyd protest movement, established a relationship with Ericka and William in recent months. 
The children of Rayshard Brooks, the 27-year-old Black man who was fatally shot by police in Atlanta in June, were also at the party. 
Floyd was killed on May 25 while in police custody in Minneapolis. Recorded footage of his detainment depicted former officer Derek Chauvin holding his knee to Floyd's neck for almost nine minutes. Floyd repeatedly told him, and surrounding officers Alexander Keung, Thomas Lane, and Lou Thao, that he couldn't breathe. 
Chauvin was charged with second-degree murder and manslaughter in September, while Keung, Lane, and Thao were all charged with aiding and abetting murder.