Celebrating Women's History Month BET Announces The 2023 'BET HER Awards' Dinner
The dinner will take place in Atlanta on March 5 and honor Kandi Burruss, MC Lyte, Kym Whitley, Thasunda Brown Duckett, Marsai Martin, and Sam Jay.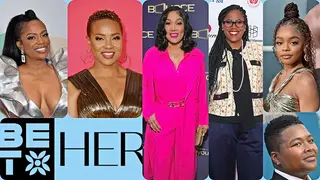 On March 5, 2023, BET will host the "BET Her Awards" in Atlanta to celebrate the accomplishments of remarkable Black women. Sponsored by Walmart, the ceremony will honor the achievements of extraordinary African American women while highlighting the values of Black Love, Black Joy, Black Pride, and Black Power.
Honorees this year include Kandi Burruss, Kym Whitley, Marsai Martin, MC Lyte, Sam Jay, and Thasunda Brown Duckett for their work encouraging women to pursue their passions and achieve their dreams. Gospel artist Tamela Mann and honoree MC Lyte are both scheduled to perform during the star-powered evening where author and pop culture queen Bevy Smith is set to host.
"Black women are the backbone of their communities," said Tavia Pitts, Senior Vice President of Ad Sales at BET Media Group. "For centuries Black women have done it all, displaying strength and grace that flows naturally in every act. It is an honor to have the "BET Her Awards" return to celebrate the incredible Black women who contribute to society and show unparalleled resilience and courage to propel our communities forward."
In recognition of her efforts to promote Black love and relationships through her music, film, and entrepreneurial endeavors, Kandi Burruss will be presented with the LOVE Award. And, in recognition of her efforts to spread Black joy, comedian, podcast host and actress Kym Whitley will be honored with the JOY Award presented by My Black is Beautiful.
This year, Marsai Martin, known as the youngest Black executive producer in history, and someone who is making a positive impact in her community, will be honored with the RISING STAR Award presented by American Express.
Stand-up comic and Emmy-nominated writer Sam Jay will be presented with the PRIDE Award provided by Discover and given to women who promote LGBTQ+ community inclusion and representation within their work.
The LEGEND Award, presented by WalMart, will be handed to MC Lyte, a lyricist, motivational speaker, DJ, voiceover artist, entrepreneur and hip hop pioneer, who has dedicated her career, on and off stage, to uplifting others through love, joy, pride, and power.
Finally, the POWER Award is given to a successful woman business owner and corporate leader who supports Black women's initiatives. This year, Thasunda Brown Duckett, president and chief executive officer of TIAA will receive that honor for her tireless work to help provide and secure retirement and investment solutions for millions of people and thousands of institutions.
As part of its mission to reinvest in the Black community after the COVID-19 pandemic, BET Media Group has collaborated with several Atlanta based Black women-owned businesses to produce the event and celebrate its guests.