Obama Taps Debo Adegbile to Lead DOJ Civil Rights Division
President Obama has nominated former NAACP Legal Defense Fund attorney Debo Adegbile to head the civil rights division at the Justice Department.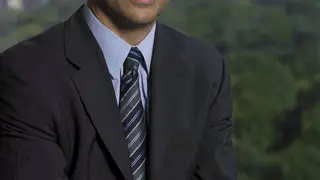 Adegbile worked for more than a decade at the NAACP Legal Defense and Educational Fund in several positions, including special counsel and acting president. Earlier this year, he defended Section 4 of the Voting Rights Act before the U.S. Supreme Court.
Civil rights leaders hailed the nomination in a conference call with reporters Friday morning and had high praise for Adegbile. Wade Henderson, president of the Leadership Conference on Civil and Human Rights, said he is "one of the most preeminent civil rights litigators of his generation" and "supremely qualified" for the role.
If confirmed, one of his tasks will be to figure out how to protect voting rights without the provision that required states or parts of states with a history of racial discrimination to have voting law changes pre-cleared by DOJ or a federal court. He also will enforce federal laws that prohibit various kinds of discrimination, including in housing and employment and hate crimes.
"Debo has a mastery of every major civil rights statute enforced by the division so we expect him to bring that broad knowledge to bear on every area of importance and policy that the division is pursuing," Henderson said.
Henderson and other leaders on the call expressed great confidence that Democrats and Republicans will support the nomination. Perez was confirmed as Labor secretary without a single Republican vote.
"Civil rights is a bipartisan issue," said Leslie Proll, Washington bureau director of the NAACP Legal Defense and Educational Fund. "Debo in particular is known as a consensus builder in his litigation, in his work to help reauthorize the voting rights act. So we have every expectation that members from both sides of the aisle are going to be supporting this particular nominee."
BET Politics - Your source for the latest news, photos and videos illuminating key issues and personalities in African-American political life, plus commentary from some of our liveliest voices. Click here to subscribe to our newsletter. 
(Photo: Courtesy of NAACP Legal Defense and Educational Fund, Inc.)