Who's The G.O.A.T. Rap Crew? So So Def vs Dungeon Family | Round 2
In the tournament to decide the greatest rap crew of all time, this Round 2 battle is an ATL matchup between So So Def and Dungeon Family.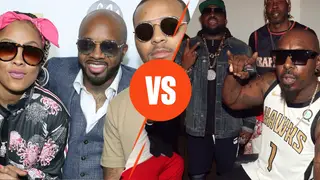 In recognition of hip hop's 50th anniversary, BET Digital, in partnership with Ambrosia For Heads, is celebrating the culture by hosting a bracket-style competition that allows you to determine hip hop's greatest crew.
Rather than having "experts" tell you who is the greatest of all time, this is your opportunity to collectively make that decision. After giving the opportunity to any and all fans to provide feedback on which crews should be included, 32 collectives from different regions, styles, and generations have been selected—all vying for that #1 spot. When the final battle is over and the last vote is cast, you will have determined who is your Greatest Rap Crew of All Time.
In this celebration of hip hop and all of its talented crews, your vote decides the winner.
Who's The G.O.A.T. Rap Crew? So So Def vs Dungeon Family | Round 2
In the mid-1990s, two Atlanta crews were solidifying their roles on the scene. Jermaine Dupri's So So Def had become an ATL hit-making house with successful singles, remixes, and albums. At the exact same time, Organized Noize was developing multiple hip hop acts in the Dungeon Family, including OutKast and Goodie Mob. Both anchored by producers, these crews shared important real estate on TLC's "CrazySexyCool" and other overlapping songs. 
While JD and So So Def were big, flashy, and commercial, the Dungeon Family was often earthy, soulful, and didactic. These crews were once rivals, but began working together to make ATL a musical leader and destination. Both collectives defeated heavyweight contenders in Round 2, with So So Def knocking out Quality Control and DF taking out Rick Ross' MMG crew. Only one Atlanta squad can reach Round 3. Your vote may decide which is the winner.
SO SO DEF
(defeated Quality Control in Round 1)
Even before building a record company, super producer Jermaine Dupri was hard at work building the So So Def crew. The son of a music executive and former Whodini dancer made waves by developing and producing Kris Kross. 1992's "Totally Krossed Out" topped the charts with two adolescents who rapped to funk-driven beats. The backward-clothes-wearing Mac Daddy and Daddy Mack landed on Michael Jackson tours (and videos), as they had the world jumping along to their hits.
By the time their sophomore album, "Da Bomb" was released, Jermaine brought Chicago's Da Brat onto the title single. Within a year, she would release a platinum debut featuring JD on its title track, "Funkdafied," and involving other So So Def crew members. Over the next decade, with Dupri at the helm (and launching his solo career), the So So Def family blossomed across iterations. Lil Bow Wow became the crew's next adolescent success story, responsible for several platinum releases.
On remixes since the collective's inception, the So So Def crew has brought their tight-knit allegiance, including renditions of Jagged Edge's "Where's The Party At?," Destiny's Child's "Jumpin' Jumpin'," and Dem Franchise Boyz' 2005 "I Think They Like Me" posse cut remix.
Despite pulling from Atlanta, Chicago, and Columbus, Ohio, the So So Def crew moved as a family—something that has existed regardless of the label releasing the music. So So Def has been an apt name for a crew whose musical legacy has endured for more than 30 years.
DUNGEON FAMILY
(defeated Maybach Music Group in Round 1)
A collective of artists descended Rico Wade's mother's basement steps. While in that studio, dubbed "The Dungeon," these creatives would make music that elevated the culture. Rico, Ray Murray, and Sleepy Brown formed Organized Noize in Atlanta. That production outfit would eventually mentor and develop a crop of teenage talent, including Andre 3000, Big Boi, CeeLo, Khujo Goodie, T-Mo, Big Gipp, Witchdoctor, and Cool Breeze. Thus, the Dungeon Family was born.
Albums like "Southernplayalisticadillacmuzik," "Soul Food," and "ATLiens" featured intermingling ensembles of talent, making incredibly soulful, honest, and otherworldly songs to represent "The Dirty South." Songs like "Git Up, Git Out," "Watch For The Hook," and "Thought Process" present a crew with distinct voices who join arms in pushing the envelope. In 2001, as OutKast had become chart-topping superstars, the Dungeon Family reconvened for "Even in Darkness, involving Killer Mike, Backbone, and others.
---
EDITOR's NOTE: Register for the sweepstakes for a chance to win the grand prize of (2) two tickets to the 2023 BET Awards, (2) two round-trip airline tickets, and a 2-night hotel stay on June 25. Up your chances to win by voting weekly.
NO PURCHASE NECESSARY TO ENTER OR WIN. VOID OUTSIDE OF THE 50 U.S. & D.C. AND WHERE PROHIBITED BY LAW. Open to legal residents of the 50 U.S. & D.C. who are 18 years of age or older at the time of entry. Ends at 12:00 p.m. ET on June 9, 2023. Official Rules: bet.com/grcoat-official-rules. Sponsor: Black Entertainment Television.