The Trump Indictment: The Former President Played A Dangerous Game With Black People, And Now His Number's Up (Analysis)
After years of trying to convince Black voters he's worth the effort, a group of superstar Black legal professionals, including Fani Willis, may be the ones to ultimately take him down for good.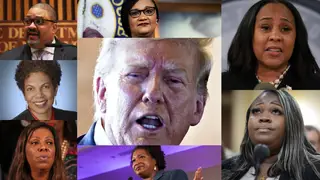 Fulton County Ga., District Attorney Fani Willis has taken Georgia from being the last piece of the puzzle in former President Donald Trump's claims of having won the 2020 election to being the centerpiece of his latest legal troubles.
On Tuesday, Trump and 18 other defendants were hit with a 98-page indictment with 13 new state counts. These range from trying to pressure Georgia officials into a scheme to overturn the elections in a lengthy list of charges ranging from violating RICO racketeering statutes to coercing public officers into lying, to forgery, even conspiracy to impersonate an officer, and trying to hack voting machines.
Although never very popular with Black folks, the latest with Trump is a far departure from the hope he promised the Black community. He spent his 2016 campaign and subsequent White House tenure talking about how much Black people could benefit from his leadership. He claimed that Black unemployment was the lowest in history under his tenure and then had a much-publicized meeting with Black panelists in Michigan to tout how much he's done for Black people. He even boasted that his executive order increased federal funding for HBCUs.
"What the hell do you have to lose?" he asked in 2016.
Unfortunately for Trump, this gamble with Black people didn't result in much. Fast forward a few years and Trump still finds himself playing this game with Black voters. The peculiar thing is that Willis represents just one of several Black numbers on a slow spinning roulette wheel for Trump…and as we know, the house always wins.
There are now four criminal indictments pending against Donald Trump, who, by the way, is also still running for president in 2024. By comparison, former president Richard M. Nixon wasn't in this much trouble in the Watergate Scandal. He was also never convicted. He resigned from the presidency on August 8, 1974 and was pardoned by his successor, Gerald Ford.

Joining Trump in this political tempest is his lawyer and former New York City mayor Rudy Giuliani, a one time federal prosecutor who took down the mafia in the city, ironically using the same RICO laws being weighed against him; and John Eastman, another Trump lawyer who allegedly drew up a plan for former Vice President Mike Pence to overturn the election results which favored President Joe Biden. Others include Mark Meadows, Kenneth Chesebro, Jeff Clark and a host of other Trump cronies.

The indictment is a hat trick of sorts for Willis, who is the first woman to sit in the District Attorney's chair for Fulton County and one of few African Americans to ever hold the position in the state. The Howard University and Emory Law graduate was blasted by Trump in a campaign ad calling her part of a "fraud squad," along with Manhattan D.A. Alvin Bragg, New York State Attorney General Letitia James, both Black prosecutorial officials, and Jack Smith, a special counsel appointed to go after Trump by U.S. Attorney General Merrick Garland.
Willis' investigation of Trump centered on a phone call in which he was heard attempting to goad the Georgia Secretary of State into changing the 2020 election results. Georgia is the same state in which Trump allegedly tried to use 16 'fake electors' to sign a document that would give him the needed electoral votes to win the presidential election. At least eight of them have received immunity in the probe. The real electors included former gubernatorial candidate Stacey Abrams, and Rep. Nikema Williams, both Black Georgia political figures.
His alleged attempts at skewing the election results also came at the expense of two state election workers, Shaye Moss and her mother, Ruby Freeman, who are Black and endured racist threats. They settled a lawsuit against far right One America Network, in which Trump and Giuliani were named defendants.

Of course Trump did not sit silent about the investigation, calling Willis "out of control" and the indictment a "witch hunt" on his Truth Social platform. But Willis balked at the notion that anyone is trying to frame him and is holding steadfast in the face of racist threats that have come to her office, even instructing her staff to do the same.
"You may not comment in any way on the ad or any of the negativity that may be expressed against me, your colleagues, this office in the coming days, weeks or months," Willis wrote in an email to staffers earlier in August, according to The Atlanta Journal-Constitution. "We have no personal feelings against those we investigate or prosecute and we should not express any."
In comments to reporters after the indictment was announced on Tuesday (August 15) about Trump's allegation that the case is politically motivated, Willis pushed back sternly.

"I make decisions in this office based on the facts and the laws," she said. "The law is completely nonpartisan, that's how decisions are made in every case."

Willis said she intends on trying all 19 indictees together, but gave no indication as to whether her case will come before or after the three other trials that Trump is involved in, totaling 91 criminal charges. These include a fraud case being prosecuted in New York by Bragg, which is due to start next March; the case against Trump for keeping sensitive government documents at his Mar-a-Lago estate in Florida; and federal election subversion charges, both of which are being handled by Smith, and one of which is related to the Jan. 6 insurrection. That case is presided over by federal judge Tanya S. Chutkin, who is also African American.
Through all of this, he's still trying to bump Biden out of office and is making his way to do so as the Republican party frontrunner. According to a New York Times poll, his base hasn't gone anywhere. He leads Florida Gov. Ron DeSantis 54 percent to 17 percent. 
Trump, for his part, is eating it all up.

"This politically-inspired indictment, which could have been brought close to three years ago, was tailored for placement right smack in the middle of my political campaign, where I am leading all Republicans" he told Fox News on Monday. "Just like [Willis] has allowed Atlanta to go to hell with all of its crime and violence, so too has Joe Biden allowed the United States of America to go to the same place with millions of people invading our country, inflation, bad economy, no energy, and lack of respect all over the world."