Girl, What? Jada Pinkett Smith Reveals Her Husband Will Smith And His Ex-Wife Still Vacation Together
She touched on divorce rumors.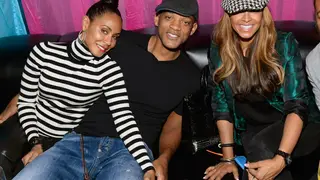 Jada Pinkett Smith's Red Table Talk Facebook Watch series has exposed a more candid side of the veteran actress. From discussions on co-parenting to shocking revalations about her experiences with sex, Smith has left very little off the table when it comes to her personal life.
The actress continued to push the envelope with her recent comments on marriage and vacationing with an ex during an interview on Shade 45's Sway's Universe.
During her recent chat with Sway Calloway, Smith revealed that she's 100% comfortable with her husband, Will Smith vacationing with his ex wife, Sheree Fletcher, when she's not there.
Opening up about her love for Will and Sheree's son Trey Smith, and the importance of him having alone time with both parents, Jada explained, "I feel as though Trey needs to feel that dynamic between his two parents. That's very important that he can feel that connection and feel where they do meet. So he can feel that parental connection. I think that's important. They actually just came off of one. She went to Jordan and Israel with them."
While many spouses would be in their feelings about their partner vacationing with an ex, Jada Pinkett Smith also touched on her unwavering loyalty to her husband of over 20 years. "We are family... I am going to hold him down, doesn't matter.... At the end of the day, that is a man that can rely on me for the rest of his life, period."
Jada Pinkett Smith's shocking revelation isn't the first time this trio's unique relationship raised questions online. Last month, Fletcher became the subject of an intense social media debate after she posted a picture of herself, Will Smith and their son Trey for Mother's Day.
Soon after, Jada and Sheree opened up about their journey in co-parenting during the inaugural episode of the social media hit Red Table Talk.
Check out Jada Pinkett Smith's Sway's Universe interview below: