White House Announces Star-Studded Juneteenth Concert
The concert will take place on June 13 on the South Lawn at the White House.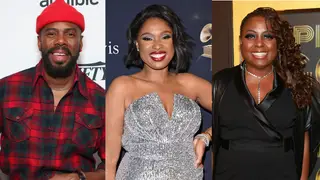 President Joe Biden has announced that the White House will host a Juneteenth concert in celebration of Black Music Month. The concert will take place on the South Lawn of the White House on Tuesday, June 13 marking the 158th anniversary of the end of slavery in America.
According to a statement from the administration, the list of participants of the celebration includes Audra McDonald, Broadway Inspirational Voices, Cliff "Method Man" Smith, Colman Domingo, Fisk Jubilee Singers, Hampton University Concert Choir, Jennifer Hudson, Ledisi, Maverick City Music, the Morgan State University Marching Band – The Magnificent Marching Machine, Nicco Annan, Patina Miller, Step Afrika!, the Tennessee State University Marching Band – Aristocrat of Band, and "The President's Own" United States Marine Band.
The event is held in conjunction with National Endowment for the Arts, National Endowment for the Humanities, Pernod Ricard USA, STARZ #TaketheLead Initiative and The Recording Academy.
Biden recognized the impact of Black music with a proclamation in May 2023 for giving "rise to distinctly American art forms that influence contemporary music worldwide and sing to the soul of the American experience."
"Much of Black music is rooted in African rhythms, coupled with the experience of slavery and struggle in America.  Barred from expressing themselves in their native tongues, enslaved people developed a language to articulate their hopes, dreams, sense of loss, and tenacity to overcome the harrowing nature of their lives," Biden's proclamation read. "They used music to strategically and creatively voice their most deeply held feelings.  Today, the creative ways that Black music tells stories of trial and triumph in American life continue to move us all to understand the common struggles of humanity."
"Spirituals, gospel, the blues, R&B, rock and roll, jazz, pop, rap, hip-hop, and more have molded American culture and given rise to new American art forms emulated around the globe," Biden said.
"Juneteenth marks both a long, hard night of slavery and subjugation and the promise of a brighter morning to come," Biden said at the time. "This is a day, in my view, of profound weight and profound power. A day in which we remember the moral stain and terrible toll that slavery took on the country and continues to take."