BET Awards 2023: 5 Things You Need to Know About Jack Harlow
Meet the rising star from Kentucky.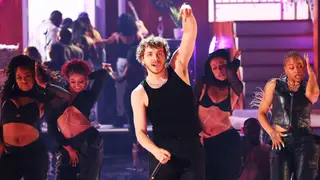 Jack Harlow is a name on everyone's lips in the music industry. The Kentucky-born rapper has been making waves with his unique style and lyricism. Since finding breakthrough success with his 2020 "What's Poppin," he's caught the attention of several industry veterans, including DJ Drama, Drake, and many more.
During the 2022 BET Awards, the 25-year-old delivered an unforgettable performance of his smash singles, "Poison" and "First Class," alongside Lil Wayne and Brandy, respectively.  If you're unfamiliar with Jack Harlow, it's time to get acquainted with this rising star. And don't forget to catch the  BET Awards 2023 on Sunday, June 25, 2023, at 8 pm/ET.
He used social media to his advantage

In the age of social media, Jack used his platform like Instagram and Twitter, where he frequently interacts with fans and shares behind-the-scenes glimpses of his life.

He's always giving back to his community

Since gaining stardom, Jack has traveled all over the world but he always returns to give back to his hometown of Louisville. Over the years, he's donated to several organizations, including Louisville Urban League,  Metro United Way, and others. He's also created his Jack Harlow Foundation.

He possibly has already worked with your favorite artist

Since coming onto the rap scene Jack has caught the eye of several of his rap peers and even some veteran. The emcee's collaborators include Brandy, Drake, Lil Wayne, Chris Brown, Big Sean, Pharrell Williams, and dozens more.

He's earned several accolades

In a short amount of time, Jack has already amassed a significant amount of awards. In 2023 he earned a Grammy nomination for "Best Rap Album" for his second studio project, Come Home the Kids Miss You.

He's set to make his theatrical debut

His rap career may have just begun, but Jack is already getting into the acting business. On May 19th, he's set to star across actor Sinqua Walls in the remake of the 1992 classic White Man Can't Jump, starring Wesley Snipes and Woody Harrelson.