Michigan Supreme Court Rules Judge Improperly Indicted Government Officials In Flint Water Case
The decision leaves residents frustrated about the lack of accountability after the city had been left without a viable water source for a lengthy period.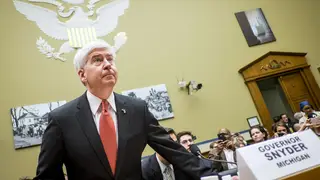 Michigan's highest court ruled Tuesday (June 28) that a lower court judge lacked the authority to issue criminal indictments against government officials connected with the Flint water crisis, ruling that he is not "a one-man grand jury."
"MCL 767.3 and MCL 767.4 (state laws) authorize a judge to investigate, subpoena witnesses, and issue arrest warrants. But they do not authorize the judge to issue indictments," the ruling, which reversed a Genesee County court read, according to  MLive.com.
"And if a criminal process begins with a one-man grand jury, the accused is entitled to a preliminary examination before being brought to trial," the ruling continued.
The decision leaves Flint residents frustrated that officials, including former Republican Gov. Rick Snyder, will evade accountability for their role in exposing the predominantly Black city to toxic tap water, The New York Times reports. Lead in the drinking water increased to a dangerous level after the city's water supply was switched to the Flint River in April 2014.
"The court system should be ashamed that they let it drag on this long," Claudia Perkins-Milton, a lifelong Flint resident and an activist on water issues, told The Times. "People here are so upset. Do you know it's been eight long years — eight? Eight long years that we've been dealing with this atrocity."
According to MLive.com, Genesee County Circuit Court Judge David J. Newblatt heard evidence against the officials behind closed doors and then issued indictments against them.
The officials who appealed to the high court included Nancy Peeler, a Michigan Department of Health and Human Services employee, former Snyder adviser Richard Baird and former state Department of Health and Human Services Director Nicholas Lyon.
Newblatt charged the three officials and six others, including Snyder, for their alleged criminal roles in the crisis without a preliminary examination that allows the defendants to cross-examine witnesses before a trial, The Detroit Free Press reported.
Appeals to Newblatt's decision were rejected, which led to the Michigan Supreme Court hearing the case.
Even though Michigan has long used the single-person grand juries, the state's high court said that method could not be deployed in that way, according to The Times. The decision sends the cases back to the Genesee Circuit Court.