Killing of Amir Locke By Minneapolis Police Sets Off Anger In A City Already Frustrated By Deaths At The Hands Of Cops
Another death at the hands of law enforcement was the source of anger at leadership in the city who accused activists of an alleged cover up.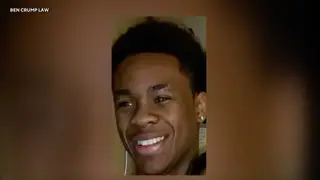 Minneapolis, a city still reeling from the effects of the 2020 police involved killing of George Floyd, is now facing an all too familiar incident in which another Black man, Amir Locke, died Wednesday (Feb. 2) at the hands of law enforcement, leaving community leaders frustrated that efforts to avoid the same situation have failed.

Officials in Minneapolis released body camera video on Thursday of police executing a warrant in which police entered the apartment where Locke, 22, was sleeping on his couch under blankets. According to public documents, the officers had obtained both a "knock" and a "no-knock" warrant as part of a homicide investigation for neighboring St. Paul, Minn., where suspects were identified along with places in Minneapolis.

When officers entered the apartment – using a key – they announced a police search warrant and found Locke on the couch. As he gets up, police open fire, fatally wounding him. A still from the video shows that he was holding a handgun.
Minneapolis Interim Police Chief Amelia Huffman said at a press conference that was "the moment when the officer had to make a split second decision to assess the circumstances and determine whether he felt like there was an articulable threat, that the threat was of imminent harm, great bodily harm or death, and that he needed to take action right then to protect himself and his partners."

She also said it was "unclear" if Locke was a suspect in the investigation and that he was not named in the warrants. According to CBS Minnesota, Locke has no criminal history in Minnesota and his relatives said that he was licensed to carry a firearm.

The policeman named in the shooting, identified as Officer Mark Hanneman, shot Locke in the chest twice and hit his wrist once. Huffman said that the investigation into the shooting is ongoing as well as the original homicide probe from St. Paul.

"This video raises about as many questions as it does answers," said Mayor Jacob Frey. "Answers we need to be providing as quickly as possible through a number of investigations that are, in fact, already underway."


Still, the killing brings back much of the anger surrounding the killing of Floyd, who was asphyxiated when former officer Derek Chauvin kneeled on his neck for nearly ten minutes before he lost consciousness and died. Chauvin was sentenced to 22.5 years in prison, and is has pleaded guilty to federal charges. The officers with him, J. Alexander Kueng, Thomas Lane and Tou Thao are also facing both federal and state charges.

Echoing the frustration in the community, civil rights attorney and community activist Nekima Levy Armstrong interrupted the press conference in which Huffman was speaking to scold both the chief and Frey, accusing them of a coverup.

"This is unacceptable," a visibly upset Armstrong, who sits on the mayor's Community Safety Workgroup, said directly to both of them. "When I agreed to work with you on the workgroup, we talked about the importance of transparency and accountability and here what we are seeing is business as usual, and you know this, Amelia. You know this, Jacob.
"I don't know how you guys slept that night, I couldn't sleep at night," she said. "Tears from a mother's perspective, thinking about what happened." She said that working on a committee that covers up what happened, accusing them of hiding behind the St. Paul police was not "what I signed up for."

Frey appeared unable to answer a series of questions from other activists present, including why a still image of Locke's gun was released and whether or not he was named as a suspect in the homicide. Before long, both he and Huffman walked out of the press conference.

"Residents of Minneapolis need to know this cannot continue," said Jaylani Hussein executive director of CAIR-Minnesota. "They killed a young man who was sleeping. He did not even have a chance…this was Breonna Taylor in Minneapolis.

Locke's family attorney Benjamin Crump echoed that sentiment in a statement and says that he will address reporters on Friday morning (Feb. 4).

"Like the case of Breonna Taylor, the tragic killing of Amir Locke shows a pattern of no-knock warrants having deadly consequences for Black Americans," said Crump. "This is yet another example of why we need to put an end to these kinds of search warrants so that one day, Black Americans will be able to sleep safely in their beds at night. We will continue pushing for answers in this case so that Amir's grieving family can get the closure they deserve."