Petition Urges Obama to Invite the Brown, Garner and Rice Families to State of the Union Address
Some say inviting the families would send a strong message about plans to repair the criminal justice system.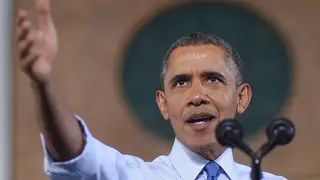 The activist-focused social media site Care2 thinks President Obama should invite the families of Michael Brown, Eric Garner and Tamir Rice to Washington for his State of the Union address. As of Thursday night, 46,468 people agreed and signed an online petition urging him to extend the invitations.
"Every year, the president invites special guests to the State of the Union, his major address to Congress. Guests typically include national heroes, outstanding students, and business leaders. This year, President Obama should invite the families of Tamir Rice, Michael Brown, and Eric Garner, three of the many unarmed Black Americans killed by police brutality in 2014," the petition states.
"Tell President Obama: Announce steps to reduce police brutality in the State of the Union and invite the Rices, Garners, and Browns to hear it in person," the petition adds.
In December, members of the Congressional Black Caucus told The Hill, a political newspaper, that they supported the idea of inviting the Browns and the Garners to attend the president's speech, which they said would send the message to the public and some of their own colleagues that Washington is serious about criminal justice reform.
"I think that would be appropriate and fitting," Georgia Rep. John Lewis, told the publication. "It would help educate and sensitize other members and humanize some of the issues we're going to confront."
Lawmakers are given one guest ticket for the speech each year, but the CBC members think the invitations should come from the White House.
"I think that would be a signal that this administration is laser-focused on the problem of police misconduct, and I would certainly encourage him to do it," said the group's new chairman, North Carolina Rep. G.K. Butterfield, according to The Hill.
BET Politics - Your source for the latest news, photos and videos illuminating key issues and personalities in African-American political life, plus commentary from some of our liveliest voices. Click here to subscribe to our newsletter
(Photo: JEWEL SAMAD/AFP/Getty Images)