Conservative Platform PragerU's Depiction Of Frederick Douglass Sparks Backlash
Florida approved what opponents call white supremacist propaganda under its new Black History teaching standards.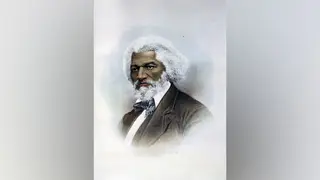 In the latest controversy surrounding Black History education in Florida, the state's education department faces backlash after approving animated content from a conservative organization.
Tampa station WTSP reports that video content from PragerU began circulating recently, and a clip depicting abolitionist Frederick Douglass downplaying the horrors of slavery and his activism to end slavery was met with a public outcry from some people calling the content "white supremacist propaganda."
PragerU "promotes American values" and "offers a free alternative to the dominant left-wing ideology in culture, media, and education," the nonprofit organization's website states.
In July, the Florida Department of Education approved a new Black History curriculum standard that includes teaching students that slaves learned skills that "could be applied for their personal benefit." Florida Gov. Ron DeSantis defended the state's new standards from critics that included Vice President Kamala Harris and scores of Black leaders across the nation.
The controversial video clip depicts what appears to be two White kids traveling back in time to meet Douglass, who tells them that slavery "was a part of life all over the world" and the United States "began the conversation to end it."
In an apparent swipe at the Black Lives Matter movement, Douglass criticizes activists who refuse to compromise on their demand for immediate reform and who are willing to "set things on fire." He then warns two child characters in the video to avoid radical activists who won't work for reform from within the system.
A spokesperson for Florida's education department said PragerU's materials align with the new education standards. "PragerU Kids is no different than many other resources, which can be used as supplemental materials in Florida schools at district discretion," the department's deputy communications director Cassandra Palelis told WTSP.
Contrary to PragerU's characterization, Douglass, a runaway slave, supported the Civil War as a way to end chattel slavery – advocating for the use of Black soldiers in the Union Army, according to Dr. Noelle Trent, an American History expert who earned her doctorate from Howard University.
The acclaimed orator and author of Narrative of the Life of Frederick Douglass, an American Slave, his famous autobiography, also pushed for an immediate change in the status of Black Americans after the war, which took the lives of an estimated 750,000 soldiers.
"Douglass advocated for constitutional amendments that would permanently change the status of African Americans in the United States. The change in the status of African Americans came in the form of the Fourteenth and Fifteenth Amendments, which granted African Americans citizenship and the right to vote," wrote Trent, who is currently the president and CEO of the Museum of African American History in Boston & Nantucket.
Here are a few reactions to PragerU's Douglass video: