Schoolboy Q Gets His Tiger Woods On In New Nike Commercial
"What would you be willing to do to chase your dream," the rapper said in the commercial spot.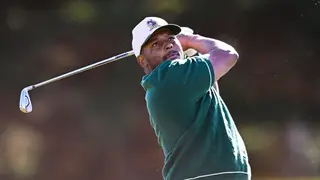 SchoolBoy Q is stepping on the golf course in his new commercial spot with Nike detailing the career of Tiger Woods while giving him appraisal for opening doors for people of color.
The spot opens up with the rapper posing the question "What would you be willing to do to chase your dream."
The ad continues with showcasing great highlights in Woods' career despite roadblocks like injuries that could've stopped him from achieving his goals.
The TDE member isn't new to the Golf world, telling Golf Digest back in 2019 what piqued his interest in the sport.
"It was a bet," he shared. "We were in the studio, and my boy started talking crazy. He's a fashion designer who grew up playing with his dad. He says golf's too hard for me. Bets me 10 grand that I can't make a birdie in two years. At this point, the only golfers I'd heard of were Tiger Woods, Phil Mickelson and Arnold Palmer, and him only because of the drink. In less than 10 rounds I made a birdie, sank about a 70-foot putt, and it was over."
He also recently participated in the 2022 AT&T Pebble Beach Pro-Am in California, where he shared how the sport changed his perspective on life.
"Coming from where I come from, the life that I had, I never thought about playing golf," he said in a PGA Tour clip.
"I got into it, and it changed my mental, it let me learn myself as a person. Like, this is why certain things in my life are going bad or certain things are going good, because of the attitude thing. It fixed my attitude in life. It fixed a whole lot of things about me in life."
The musician is keeping it in the sports space with his new single 'Soccer Dad,' which is available on all streaming platforms and serves as the first single as he begins to ready up for his upcoming album.