In Meeting, Sen. Chuck Schumer Hears Very Real Concerns About Artificial Intelligence and Its Impact on Black People
The New York Democrat listened to several parties' worries about the technology and discussed 'guardrail' legislation as a protection.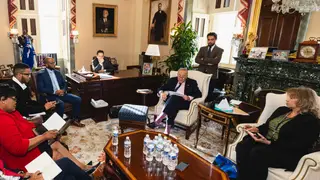 Artificial intelligence has been a hot, if not heated topic that has been discussed for much of 2023. Due to things like facial recognition, deep fakes and automation of jobs, among other issues, it has become an item of concern in the African American community. 
Those concerns prompted Senate Majority Leader Chuck Schumer to sit down on Nov. 15 with a group of Civil Rights activists, business leaders and journalists with an update on his plans for Artificial Intelligence regulation.
"If Congress and government don't step up, there will be no guardrails. Blacks are among those most affected by A.I.," said Schumer, a New York Democrat. "The racism perpetuated for centuries could be built in –  that's why we need guardrails."
The meeting came following a series of bipartisan congressional forums examining A.I.'s potential impacts. The forums were held after President Joe Biden issued the first-ever Executive Order on Artificial Intelligence. They examined effects on elections, civil rights, healthcare, law enforcement, business, and jobs, especially for people of color.
Schumer said that Congress must move now to create artificial intelligence legislative protections.
"If we do nothing it's built in, the bias against people of color," he said. "The same inequities, same injustices. And this is everywhere-- voting, finance, the areas with red lines will use the same redlining data with A.I. We have to force them to stop."
Melanie Campbell, President and CEO, National Coalition on Black Civic Participation, stressed that elections are a pressing concern, especially with the presidential vote coming up in less than a year.
"This will be one of our most important elections," said Campbell. "This is real. A.I. will impact the election and has already impacted elections in the past. When you're talking about targeting Black voters, to get us not to show up [like in the past] -- with A.I. that can be on steroids plus.
"We cannot have our democracy be impacted. It's already challenged, " Campbell warned.
Schumer agreed. "We're within this moment where the election will determine what kind of democracy we'll have. A.I. will have an impact on that."
"We have to do finance and we have to do health care, and we have to do education, prevent bias and to prevent job displacement," he continued. "But the first thing we've got to look at is elections because they're coming up so soon."
Schumer said he is "very encouraged" that there is bipartisan support in Congress for enacting A.I. safeguards, as well as among big tech companies. "Three major companies in the room during the A.I. Insight Forum – Meta, Microsoft, and Google – [said they] supported legislation to create these guardrails."
Beyond reducing artificial intelligence bias, Jeff Nelson, co-founder and chief operating officer of internet media company Blavity, stressed the need to "think about economic empowerment and wealth creation, primarily for Black and Brown individuals… to ensure that [A.I. funding and research] encourages Black entrepreneurs, Black founders, Black techies and Black leaders to be a part of it."
Schumer assured this is already underway. "We included minority businesses in the BUILD (Bipartisan Infrastructure Law) legislation – now this effort will do the same for A.I." He added, "we want this to be Open Source- it needs to be open to everyone, not just the three big companies. Minority businesses will be able to compete."
As part of the protection enforcement, Schumer says he is pushing for liability provisions "that will allow legal groups to sue." Ways for the public to report problems will also be included. The exact method of reporting – whether through an existing agency or if a new agency will be created – is yet to be determined.
Despite the potential dangers of A.I., meeting leaders stressed there are also opportunities.
"Our goal is to put guardrails in to eliminate or greatly reduce the amount of bias in system." said Schumer. "If we force them to stop it's actually a moment where we can create good change. I want to assure you that I am going to do everything I can to eliminate where we can and reduce the amount of bias that A.I. will have in its systems."