Why Are Black Breast Cancer Patients Left Out of Clinical Trials?
More than three quarters of women in a University of California, Davis study were not given information on clinical trials for breast cancer.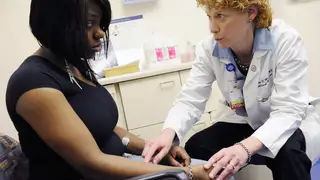 Because of our tumultuous past with the medical system — the Tuskegee Experiments being a prime example — it's no wonder why so many African-Americans may have serious reservations to participate in experimental clinical trials. But, given the steep racial disparities and death rates, especially among those suffering with cancer, these experimental treatments could be the difference between life and death.
Just look at breast cancer. More than 1,700 black women each year die from the disease — that's almost two times higher than white women.
But growing research is finding that our mentality isn't the sole purpose why we don't take part in clinical trials. Studies show that African-Americans are not being asked by the medical community to participate.
Earlier this year, a University of California, Davis study found that most African-American women being treated for breast cancer were not asked to take part in clinical trials. Researchers interviewed 137 Black women and found that while they were satisfied with care, 78 percent were not asked to be in a clinical trial or given any information about clinical trials that may be beneficial for their type of breast cancer. And this is important because 78 percent of the women interviewed claimed that they would have enrolled if eligible.
But even if patients are told about a clinical trial and are eligible, a new report suggests that being low-income could deter patients.
Researchers from SWOG Statistical Center at the Fred Hutchinson Cancer Research Center surveyed 5,500 adults diagnosed with breast, lung, colon or prostate cancer and found that only 40 percent had discussed clinical trials. Patients making $50,000 or less were 30 percent less likely to participate in a clinical trial compared to those who make more money, and patients making $20,000 less were 44 percent less likely to be in a clinical trial. 
"This is the first time in a large, national study that we have actual patient-reported income on which to base this finding," study lead author Joseph Unger said in a news release. "Our study found that after accounting for all factors such as age, education, sex, race, medical conditions and distance to a clinic, income on its own was associated with a patient's clinical trial participation."
Lower-income patients, the study showed, were more concerned about how to pay for their participation in a clinical trial than higher-income patients. The researchers suggested some possible financial barriers might be direct costs, such as co-pays, and indirect costs, such as having to take time off work.
When it comes to clinical trials and alleviating the breast cancer death rates among Black women, yes, more needs to be done to mend these old wounds of mistrust. But we need more research to address these other institutionalized factors — income and doctors not being forthcoming with information — if we really want to provide more access to treatment for the women who need it the most.
Would you be in a clinical trial? Learn more about what they are here.
BET Health News - We go beyond the music and entertainment world to bring you important medical information and health-related tips of special relevance to Blacks in the U.S. and around the world. Click here to subscribe to our newsletter.  
 (Photo: Matt McClain for The Washington Post via Getty Images)