Twitter Reacts To The Game's 'Born 2 Rap' Album Cover
The cover features nine pregnant women, including one rolling a blunt.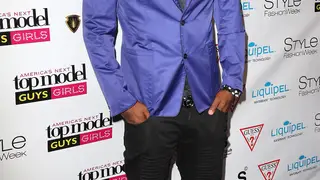 West Coast rapper The Game is promoting his latest album, Born 2 Rap, with contentious cover art that has social media ablaze.
The Game, born Jayceon Terrell Taylor, shared his ninth studio album cover on Instagram on Monday, November 18. The cover included nine pregnant women in a recording studio, surrounded by liquor. One pregnant woman was pictured rolling a blunt. The rapper is also featured on the cover writing in a notebook.

His Instagram announcement also tagged the mothers-to-be in the caption, thanking them for their participation.

Twitter had mixed reactions to the album's cover. Some defended the cover while others side-eyed the album's cover picture.

The 39-year-old shared a disclaimer on his Instagram post, writing, "None of the women pictured above are in any way shape or form taking part in the consumption of alcohol or marijuana."

He also explained how the album's cover signifies a deeper meaning.

"The concept behind this photo goes way beyond what you see upon 1st glance & I absolutely cannot wait for all of you to hear the music that goes along with the album."

Born 2 Rap is slated for a November 29 release.