Gayle King Tests Positive for COVID, Had To Be 'Picked Off The Floor' Upon Finding Out
The "CBS Mornings" star is 67-years old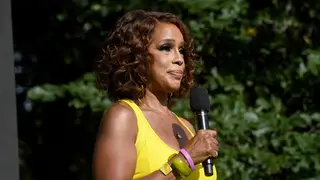 Television broadcaster Gayle King was thankful during Thursday's (Feb 10) airing of CBS Mornings, as she had been in utter shock after receiving a positive COVID test that morning. Talking from a remote studio van to co-anchor Tony Dokoupil, she recalls how she let out a scream and needed CBS Mornings executive producer, Shawna Thomas, for help.
"That primal scream you heard from the fourth floor was me because I've been so freaking careful. I just couldn't believe it," the award-winning host shared. "Shoutout to Shawna who had to literally pick me off the floor, just guide me to the office, because I had a positive PCR, a negative antigen. Then, we've since taken multiple [tests], they've all been negative. Everybody on my team is negative. I don't even know how to explain this," Gayle continued.
RELATED: Tyrese Gibson Says His Mom Is In a Coma With COVID And Pneumonia

Gayle notes that the news was a double-whammy seeing that she was due to vacation in Los Angeles the very next day. After testing more times and getting negative results, however, Gayle received an OK from her doctor, putting her in more positive spirits.
"I just got off the phone with my doctor," she said. "[The doctor said,] 'Gayle, you're fine just put on your mask and carry on.' But it is very, very jarring, I have to say. Gayle went on and posted a photo to her Instagram, relaying the news. "I do not have COVID and can move in the world ..Whew! Still planning to wear a mask in public for now," she wrote. "I was dreading being isolated in my apartment!"
Looks like the TV personality will be able to go on vacation after all.