EXCLUSIVE: The Black Transgender Community Speaks Out Against Trump's Military Ban
BET.com speaks to five trans individuals on why it's more important than ever to stand in solidarity.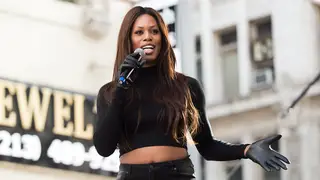 On July 26, Donald Trump abruptly announced, via Twitter, that he plans to reinstate a ban on transgender individuals from serving "in any capacity" in the US armed forces. The announcement in essence reverses a policy that was approved by the Defense Department under President Obama administration. The policy was still under review, but it would have allowed transgender individuals to openly serve in the military.
Trump fired off this series of tweets:
According to CNN, members of the Trump administration were "blindsided by the news." Of course Trump's tweets came without clarification of what the ban truly means. We have no choice but to take the tweets at face value for now.
The transgender community shared major concerns, primarily trans men and women of color. If you haven't noticed, in popular culture and politics, mostly white transgender individuals are being asked to speak on platforms relating to this topic for the entire community. Wealthy individuals like Caitlyn Jenner remain vocal about the ban, but trans people of color feel Caitlyn has no real clue how the ban impacts the many trans individuals who don't have her level of wealth.
BET.com reached out to some transgender POC to get their take on what's going on and its effects the Black community in general.
Zayn Silva, 25, Brooklyn, New York
Zayn is a trans male and the founder of TransAlike. He began his social transition in 2012 and physical transition in 2015 to male. Zayn is currently on hormones and pursing gender reassignment surgery.
Zayn's thoughts on the military ban are similar to many, and he describes it as "extremely sad." He feels that the message is deeper than "we don't want trans in military" — he feels this is a slow attempt to remove rights from LGBT individuals completely. "From… just the LGBT page getting taken off of the White House website or just like LGBT rights being taken away in the workplace and now this. I feel like it was just a cowardly act. I would rather him just say that he doesn't want them to serve than to say that it was a financial decision, when the transgender community makes a very small percentage of the community, the world's population in general. I can't imagine that they're taking up too much money from federal funding or anything."
Although the ban doesn't affect Zayn directly since he states he never had the desire to serve, when he read the ban information on Twitter from the president, he thought about all the confused teens who have to struggle with interpretation of what it means to be trans in America. "I can imagine all of the kids and teenagers and young adults that are looking at this and they're finding this another reason to feel, you know, suicidal, another reason to not feel loved or another reason to feel like they don't belong somewhere because we're, as transgender people, we are a nuisance for our medical necessities, or we're a bother or we're taking away from the budget of the government. So it was more of a scare that our rights are being taken away the moment they were given to us. We haven't even had specific rights for more than a year, and it was more of a scare of that for our community than anything."
Noche Diaz, 29, New York
"This move by Trump to ban trans people from the military has nothing to do with the pragmatic needs of military conflict or warfare. This has to do with two things: The rise of trans individuals and creating this stigma of they are some other kind of people that are an inconvenience to the rest of us and to purge them from the military."
Socorro "Cori" Moreland, 32, Oakland, California
Cori started his transition in 2003, during a time where it was uncommon for people of color to identify as trans. For him, it was important to know how to do his transition safely in his community and protect his family. Living in a conservative city such as Oakland, he mentioned when he started there wasn't a lot of people of color transitioning primarily due to the lack of knowledge and resources in the area.
"Us people of color transitioned for safety. That's the most important part. People outside of the [Black] community, you will hear say, 'I transition because I want to feel good about myself. I needed to break that wall.' When it comes to be being a BLACK TRANS person, It's more of, 'I know who I am, I know I need to transition because I can't keep living a lie but at the same time I need to pass [as a male or female] because, in reality, my safety is compromised."
Cori is someone who actually considered joining the Air Force when he was 19 but quickly changed his mind after considering his personal safety would've been compromised — not by war battle, but because he was a trans person. "I was going to go into the Air Force but knew I wanted to transition and this wasn't going to be welcomed. Also, there was a lot of violence towards people of color who were trans in the service. It wasn't a good idea."
At-Tia (last name unknown), 21, New York
"[I'm a] full human being! It is about fighting for the emancipation of all of humanity if someone who fully believes that women, men, people of every gender, different genders or no genders are equals and fighting for the full liberation of all of humanity."
L'Oréal Hardy, 30, Atlanta, Georgia
L'Oréal identifies as a trans woman. Originally from Florida and now residing in Atlanta, she works for NAESM, a community based organization that provides preventive health services to marginalized communities. L'Oréal also founded TRANSparency, a support group for transgender individuals and others to help bridge social gabs.
About the proposed ban, she said, "I think it preposterous, disgusting and makes no sense! It goes back to segregation!" L'Oréal tried to find some positive in the situation by focusing on the awareness this attention brings to the transgender community, meaning society can see the valuable contributions of trans individuals as it relates to protecting America. "I tried look at the fact that this is a time that Americans can see how many trans people serve this country without recognition. It's something in their heart and [they're] not doing it to be accepted! I tried to look at the positive side and see this is a time where people can look at the situation and see that it's not a Mexican, Black or white thing — it's a human thing!"
L'Oréal feels that "Donald Trump has created this to alienate a certain group of people, but what he doesn't realize is that this ban affects everyone, not just trans people. Today it's trans people, tomorrow it could be something else – another ban based on something else that has nothing to do with how you serve your country and what you are entitled to as an American citizen! It's disheartening to know that this is one more thing to cut people who identify as trans."
What can be done in the trans community to fight the ban?
L'Oréal stated, "Within our community we need to work together and make other people aware of the hate that's built against us and be more conscious of the law. Know what your rights are. And laws that protect you. The more you know, the better off you will be. Stay aware of what bills are being passed."
"I think that sticking together, being educated on what's going on, and just reminding each other that we're valid, that we are resilient, that we're beautiful, that we deserve everything that everyone else deserves daily is enough to motivate us so we can, you know, ride with the current, and kind of not go with the emotion of the ocean right now,  what's happening, but just try to stay focused on what the priority is and the priority is to get us the same exact safety and rights that other people have," explained Zayn.
Cori stands firmly in the idea that this is bigger than trans people of color and we all need to stand in solidarity as a Black community. "The trans community as a whole has been fighting for generations. It's up to heterosexual people too to take a stand. It's like when our people say, 'I love black people.' But when you say that, it should mean you love all Black people, you can't pick and choose which Black people you are going to hate. That is the crazy, convoluted mess we go to as a people. At this point, I am standing in solidarity with Black trans people in the army because those are the people who going to get out and have done their best. It's up to the Black community as a whole to uplift the trans people of color and make sure that you are supportive all Black people, including transgender. It's hard because some people just want to live their lives without this spotlight, but it's important that they remember the spotlight is already on them as a Black person, a Black gay person and especially being a Black trans person because the Black community don't understand that spectrum yet."