Why Two Black Men in Va. Were Sentenced To Life After Being Found Not Guilty For Killing A White Police Officer
Terrence Richardson and Ferrone Claiborne have been incarcerated for over two decades. Their attorney is asking Biden to grant them clemency.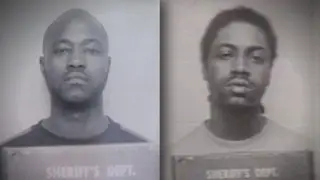 Imagine being found not guilty of murdering a police officer, but somehow you still get sentenced to life in prison. That is the case of Terrence Richardson and Ferrone Claiborne, who have both spent more than two decades behind bars in Virginia.
On April 25, 1998, a white police officer named Allen Gibson was fatally shot in Waverly, Va., after an altercation with two Black men. Within days Terrence Richard and Ferrone Claiborne, then 27 and 22 respectively, were arrested.
Here is where the story gets complicated. Earlier this month on my Sirius XM show, I interviewed their attorney Jarrett Adams, an exoneree who now fights for the wrongfully convicted, who explained after being charged for the murder of a police officer Richardson and Claiborne were poorly advised by counsel to plead guilty, even despite maintaining their innocence.
Why would someone plead guilty to a crime they didn't commit? It's not uncommon, especially when the accused doesn't have the money and resources to defend themselves in the criminal justice system. GuiltyPleaProblem.org reports 18 percent of known exonerees pleaded guilty to crimes they didn't commit and 65 percent of exonerees who pleaded guilty were people of color.
Terrified of the death penalty, Richard pled guilty to a manslaughter charge, receiving a one-year suspended sentence. Claiborne pled guilty to an accessory after the fact charge and received a five-year suspended sentence which he had to serve two years in state custody.
However, the case doesn't end there. Gibson's was unhappy with the lenient charges and demanded a federal investigation. The Feds then charged Richardson and Claiborne with drug charges.
"The Feds ended up bringing drug charges against Terrence [Richardson] and Ferrone [Claiborne] in order to bring the same murder accusations in federal court," Adams explained. "These drug charges were absolutely unfounded and supported by nothing more but testimony of people who had the incentive to lie, and were trying to get rid of their own drug charges.
Federal prosecutors claimed the murder of Gibson was a result of a ten-year drug conspiracy. By 2001, Richard and Claiborne went to trial for murder.
In September 2001, a jury unanimously found Richard and Claiborne not guilty of murdering  Gibson. But instead, they were found guilty of a single drug count, which would have resulted in approximately 10 to 15 years in prison. Nonetheless, they were sentenced to life by the judge, based on the state court guilty pleas, again, despite the jury finding them not guilty of murder. Dawn White, a federal juror on the case who is White, was shocked. White said in a 2021 interview, "Somebody didn't like the verdict. As I recall, nobody ever really thought they were guilty of murder."
How did Richard and Claiborne's name even get caught up in the murder of Officer Gibson? According to Adams, police rounded up a bunch of Black men in the area and another man who was facing criminal charges, spewed out names, two being Richardson and Claiborne.
Adams also added, "What I really believe what sold it for the officers when they landed on Terrence and Ferrone was this – Terrence and Ferrone could not afford the voices and resources that were needed to defend themselves. And that is something that happens synonymously in our communities every day."
Another important note is that at the time in Waverly, Virginia, the area was predominantly Black but nearly all the officers were white. Warren Sturrup, the former Black police chief who stepped into the role shortly before the 1998 murder of Gibson, said in 2021 that Black people were being targeted by police, "It took me a short period of time to realize the mayor choose me as the chief because the Black population of Waverly was revolting at what was happening to their town." Sturrup did not believe Richard and Claiborne were guilty. He was fired shortly after Gibson's death.
What's next? On Sept. 21, Adams, who has been working on the case for five years, filed a Petition for Clemency to President Joe Biden to release Richardson and Claiborne. Although Republican Governor Glenn Youngkin has the power to grant them clemency, as one can imagine, the man who used "critical race theory" and race-baiting to win his election, has no interest. In February 2022, Virginia Attorney General Jason Miyares decided to not support the case and "fired every attorney in his office that had been working on the case," according to NPR.
The call for justice is not only from Richard and Claiborne but also from the victim's daughter. In 2020, Crissana Gibson, who was 8 years old when her father was shot to death, said in a statement, "I want the persons responsible for my father's murder to be held fully accountable for their actions; if that is not Terrence and Ferrone, I want justice done for them and it must not stop there."
Adams told me that he is making the plea to Biden, "We're asking the president to step in, when the president asked us, as voters, to support him, we did so with the promise that the criminal system would be attended to – this is the case to start, Joe Biden, I'm begging you to act."
Watch the interview below with Jarrett Adams on SiriusXM's Urban View The Clay Cane Show: