Texas School District Approves Policy Limiting Critical Race Theory, Gender Identity Discussions
Teachers can't assign students to read the award-winning '1619 Project' under the new rules.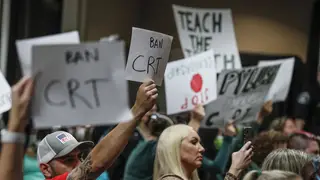 The Grapevine-Colleyville Independent School Board in Texas voted 4-3 on Monday (Aug. 22) to pass a sweeping set of policies that bans Critical Race Theory (CRT), limits gender identity and restricts which books students can access in the libraries.
According to The Texas Tribune, the school district is apparently the first in Texas to incorporate state's Senate Bill 3, the so-called Critical Race Theory law, districtwide.
CRT is an academic framework to analyze systemic racism that is not typically taught at the primary and secondary levels. It has emerged as a political lightning rod that Republicans hope will energize their base in the 2022 midterm elections. As a result, fear is being stirred among white parents that CRT threatens their schools.
Under the school board's new policy, teachers and administrators are ban from discussing CRT, or what they call "systemic discrimination ideologies." For example, it would prohibit educators from assigning students to read The New York Times' "1619 Project," a Pulitzer Prize-winning collection of essays that reframe the country's history by placing the consequences of slavery and the contributions of Black Americans at the very center of our national narrative.
CNN reports that the new policies restrict gender identity to the biological sex listed on an individual's birth certificate or other government-issued record. Consequently, gender pronouns and access to restrooms must correspond to an individual's biological sex. The new rules also limit library materials to those that are deemed appropriate under the new policy.
"These policies restrict access to an inclusive education, bring 'Don't Say Gay' rules to Texas, and violate students' First Amendment rights," CNN quoted a statement from the ACLU of Texas.
"GCISD's censorship and book banning policies will have an extreme and alarming chilling effect on classroom discussions about history and inequities related to race, gender identity, and sexual orientation. We support the students, parents, and staff fighting to stop it."
More than 14,000 students attend Grapevine-Colleyville schools in the district located between Dallas and Fort Worth.