Girl In Sex Videos Allegedly Recorded By R. Kelly Expected To Testify
Prosecutors say at the time she was 14 years old but now, as an adult, she may describe to jurors what the singer is accused of.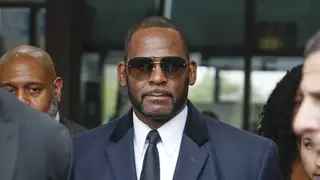 The woman who was a young teenager when singer R. Kelly allegedly video taped his sexual encounters with her is ready to testify against the fallen R&B star.
During opening statements on Wednesday (Aug. 17), Assistant U.S. Attorney Jason Julien said the alleged victim, identified in court with the pseudonym "Jane," was just 14 when Kelly, then in his 30s, had sex with her hundreds of times in the late 1990s and created child pornography videos of the encounters,  CNN reports.
"Jane's going to tell you that it's her on the videos. That it's Kelly on the videos having sex with her," Julien told jurors at the the federal trial in Chicago.
Federal prosecutors charged Kelly, 55, with the sexual abuse of five minors and producing pornographic videos with four of them. Two co-defendants, Derrel McDavid and Milton "June" Brown, Kelly's former business manager and accountant, face child pornography and obstruction charges for helping Kelly cover up his crime. All three men have pleaded not guilty.
According to the prosecutor, Kelly knew members of Jane's family. Her aunt had a recording contract with him and her father played guitar on several of Kelly's records. Kelly met Jane when she was about 12 or 13 years old and became her godfather–not in the religious sense but as a cover to spend time with her. He's also accused of having sex with Jane's underage friends who are also expected to testify at the trial.
In 2008, a state jury acquitted Kelly on child pornography charges involving Jane after the singer's attorneys convinced the jurors that the identity of the female in the videos was inconclusive, The New York Times reported after that trial.
The alleged victim declined to testify at the 2008 trial. She's now nearly 40 years old and ready to tell jurors about her sexual encounters with Kelly.
Kelly's attorney Jennifer Bonjean raised doubts about Jane's upcoming testimony in her opening remarks, asking jurors to question why she's coming forward now.
"For the last 22 years she has adamantly denied that it was her in that video," CNN quoted Bonjean. "Before there was any criminal investigation, she denied it. She denied it repeatedly to prosecutors, she denied it to social workers, to police officers. She denied it under oath to a grand jury."
Meanwhile, attorneys for McDavid and Brown gave a glimpse into their defense. Their lawyer argued that the two men were just doing their jobs and knew nothing about their boss' alleged sexual encounters with any minors, WLS reported.