Lawyers Accuse DeSantis Of Dismantling Black Congressional District
The lawsuit claims that the Florida governor purposefully established districts that favored the Republican party.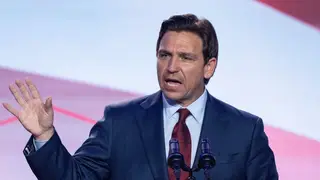 A federal trial has begun in Florida accusing Gov. Ron DeSantis of violating the U.S. Constitution by intentionally dismantling a congressional district that had a majority Black constituency, USA Today reports.
The trial opened up with legal teams representing Common Cause, the NAACP, Fair Districts Now, and individual voters press gave arguments before a three-judge panel claiming that DeSantis sought to eliminate Rep. Al Lawson's districts from Tallahassee to Jacksonville, Florida,
"The governor pushed and pushed and pushed," said attorney Greg Baker. "He pressed his argument by sound bite bullying."
According to the report, DeSantis constantly pushed for his versions of a congressional map in the Florida Legislature while vetoing two maps that were approved by lawmakers. One which created a Black-leaning district confined to Duval County and another that kept in place the east-west seat held by Lawson.
Because of DeSantis' plan with the full backing of the GOP majority state legislature, the Republicans won 20 of Florida's 28 congressional districts in the 2022 elections which helped the party take control of the U.S. House by picking up four additional seats.
J. Alex Kelly, who drew the governor's map and his acting chief-of-staff, said DeSantis viewed recreating an east-west North Florida district favorable to a Black candidate "as an illegal racial gerrymander,"   disregarding the ruling by the Florida Supreme Court in 2015. 
Kelly said DeSantis believed that the district violated the equal protection clause of the federal constitution by favoring Black voters over white voters.
"He never once commented on eliminating a Black opportunity district," Kelly said, describing  the governor's strategy as  "race-neutral."
"He asked me to draw a compliant map," Kelly added.
Attorneys for the plaintiffs argued that the Supreme Court's decision to put the district in place outweighs DeSantis' opinion about the law.
"The Florida Supreme Court got it wrong," Kelly told the court
M. Casey Rodgers, one of the judges on the panel said he didn't understand how DeSantis concluded that the Tallahassee to Jacksonville district violated the equal protection clause, a provision added to the U.S. Constitution to protect Black citizens following the Civil War.
"As interpreted by what court?" Rodgers asked. "Is there a court decision the governor cites that agrees with him on the equal protection clause?"
Florida is not the only state in a battle for congressional maps. In June, the U.S. The Supreme Court ruled to strike down the Republican-drawn congressional districts that civil rights activists said were racially discriminatory in a 5-4 decision.
"We see no reason to disturb the District Court's careful factual findings," Justice John G. Roberts wrote in the opinion for the majority, adding "that Alabama sought a radical rewrite of the court's precedents."