OPINION: In The Faith Community, Understanding Reproductive Rights Is Not A Sin
In the abortion debate it is possible to be both pro-choice and pro-life, and with a Supreme Court decsion changing the landscape, this is why it's important.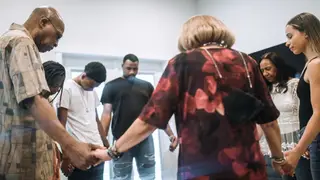 Two weeks ago, I had the honor of joining a small number of faith leaders and elected officials in an intimate conversation with Vice President Kamala Harris on the possibility that Roe v. Wade may soon be overturned by the Supreme Court. Harris has taken up this issue, saying she is very concerned about the potential impact of the Court's decision striking down the 1973 Roe v. Wade ruling, which came down on Friday (June 24) for millions of women across our nation.
As a faith leader and pastor, I was honored to be in that space as a person who speaks on behalf of women's reproduction rights as an expression of my faith, not in spite of my faith. The myth is that people of faith do not support abortion rights; in fact, according to Pew research, more than half of all major faith traditions in the U.S. support a woman's right to choose and exercise autonomy over her body.
The top concerns about women's reproductive rights from my community are the added risks, inequities and harm that women who are already dealing with a great burden will have to shoulder if they are forced to carry pregnancies to term. The added burden will be a threat to their physical health, their economic situation and/or their mental health.
When a woman is at the place of deciding whether an abortion is the course she needs or wants to take, she is already managing a level of risk, inequity and potential harm. No one can predict how this shifting legal ground will ultimately play out for women and their families when these burdens increase and when no real assistance is being offered to women in the states where the political powers-that-be are eager to end all abortion access, no matter the consequences.
This is why the most accurate way to describe my perspective is both pro-choice and pro-life. My notion of being pro-life extends beyond concern for the fetus alone, also including the life and wellbeing of the mother. The tragedy of this move to end women's access to safe abortion is that the life of the woman as an autonomous person is completely being ignored. In a post-Roe world, she is simply a baby-making machine, and her mental, emotional, physical and economic welfare are irrelevant--when those parts of her life are crucial to rearing a child.
To be sure, efforts to preserve white supremacy over Black bodies always have negative implications for Black people. In this instance, a movement to protect Black women is called for—particularly around Black women's mental, economic and physical health. Post-Roe, this will entail protecting Black women from those offering unsafe abortions, who tend to prey on people in low-economic communities. Unsafe abortions rank in the top causes of maternal mortality and morbidity, according to the World Health Organization.
As a pastor I often conclude my sermon with a celebration--even when dealing with a text that may be challenging, the Gospel is, at the end of the day, good news. But I struggle to find any way to spin to potential overturning of Roe as good news. Stealing a woman's right to have autonomy over her own body is an injustice. And injustice is something my faith informs me to speak up and speak out about. As the Book of Isaiah says: "cry out and spare not."
Rev. Dr. Najuma Smith-Pollard is Assistant Director of Community and Public Engagement with the USC Center for Religion and Civic Culture, She also leads programming for the Cecil Murray Center for Community Engagement, which is housed at CRCC.