GOP Holds NYC Crime Victims Hearing In Thinly Veiled Attack On DA Alvin Bragg
The Manhattan prosecutor's office calls the meeting a 'political stunt,' which comes more than a week after Donald Trump's indictment.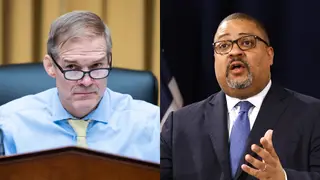 A House committee led by former president Donald Trump's ally Rep. Jim Jordan came to New York City Monday (April 17) in an escalation of the Ohio Republican's attack on Manhattan District Attorney Alvin Bragg.
In a rare visit to the Big Apple, the House Judiciary Committee held a hearing titled "Victims of Violent Crime in Manhattan." The GOP-led committee said the hearing will "examine how Manhattan District Attorney Alvin Bragg's pro-crime, anti-victim policies have led to an increase in violent crime and a dangerous community for New York City residents."
Jordan claims that Bragg allows crime to run rampant in Manhattan because he's preoccupied with prosecuting Trump. But Bragg's office released recent data showing that crime has decreased in Manhattan.
Bragg's office charged Trump on April 4 with 34 felonies connected to the former president's attempts to cover up a potential sex scandal with porn actress Stormy Daniels during and after his 2016 presidential campaign.
The DA views Jordan's hearing as just another attempt to interfere with his criminal case against Trump. Jordan previously subpoenaed a former prosecutor in Bragg's office who investigated Trump. That move prompted Bragg to sue Jordan and his committee to block the subpoena.
Jordan's office announced a lineup of at least eight witnesses to make his case, including 61-year-old former deli clerk Jose Alba. He was charged last July with second degree murder for fatally stabbing Austin Simon, 35, at the Blue Moon convenience store in Harlem.
Alba said he killed Simon in self-defense when the younger man attacked him behind the counter. The case sparked outrage after surveillance video appeared to support Alba's version, prompting Bragg's office to drop murder charges because of evidence showing Alba acting in self-defense. Alba reportedly plans to sue Bragg and the city for wrongful prosecution.
Other witnesses include Madeline Brame, Chairwoman of the Victims Rights Reform Council and mother of a homicide victim, and the founder of Victims Rights NY Jennifer Harrison.
A spokesperson from Bragg's office said the hearing is "a political stunt" because shootings, homicides, and other crime categories are down.
"Don't be fooled, the House GOP is coming to the safest big city in America for a political stunt. The hearing won't engage in actual efforts to increase public safety, such as supporting national gun legislation and shutting down the iron pipeline," a tweet from the DA's office said.
Mayor Eric Adams has also chimed in, criticizing the committee's focus on New York City when  "crime in congressional Republican areas per capita is through the roof." He blamed southern states for the "proliferation of guns" trafficked to big cities in what's been dubbed the "iron pipeline."
An analysis of national crime data reported by Axios supports Adams' comments about the crime rates. The study found that the murder rate in red states that voted for Trump in 2020 have exceeded those in Biden-voting states every year since 2000. Four Republican states consistently topped the list: Louisiana, Mississippi, Alabama, and Missouri.
Bragg, a 49-year-old Democrat, was elected DA in November 2021. He's a former federal prosecutor and deputy New York attorney general. The Harlem native, who graduated from Harvard Law School, is the first Black person to lead the Manhattan DA's office.
According to The New York Times, Bragg's priorities and policies coming into the office aligned with other progressive prosecutors in other big cities who are trying to end racial bias in the criminal justice system. Bragg caused a stir during his first week on the job after releasing a memo tha directed his prosecutors to seek jail or prison time for only the most serious offenses unless the law required otherwise.
Bragg became the first prosecutor to file criminal charges against a current or former U.S. president, which prompted a fierce backlash from Republicans. Jordan, who Trump considers his closest confidant in Congress, has been among the most vociferous critics of Bragg.