'My Wife And Kids' Star Parker McKenna Posey And Partner Jay Jay Wilson Welcome Their First Child
The 25-year-old actress announced the news on Instagram.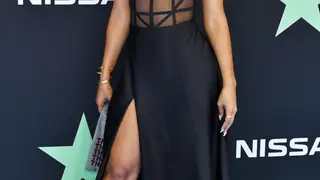 Parker McKenna Posey announced Sunday that she welcomed a baby girl and celebrated her first Mother's Day.
Taking to Instagram to share the news, Posey posted a video introducing herself as "Harley's Mom" and captioned the post, "My biggest blessing thus far!! I love being your Mommy."
"I didn't know what raising you in this crazy world would look like, but I was ready for the adventure. Anytime I had doubts or uncertainties, feeling you growing inside reminded me God chose me to be your Mommy," Posey said in the video to her daughter.
"Thank you for making me your mommy," Posey said as she ended the video.
According to ET Online, The Games People Play actress and her partner, Jay Jay Wilson, are both first-time parents. Wilson also posted on Instagram on Mother's Day, sharing a heartfelt message to Posey.
"There's so many things to say but not enough words. The love I have for this woman is beyond this life time and the next. I never thought I'd experience a love like this. But you've showed me that the love we share, is the love we deserve. You are the embodiment of Power, Strength, Resilience, and what it means to be a WOMAN!," Wilson captioned his post.
"Just when I thought I felt all the love that it was to feel. You blessed me with our beautiful baby girl! I can't even explain how amazing it has been watching you be a great mother to our child. She definitely has the perfect example of a real woman," Wilson continued. 
"I want to thank you for being You! You are truly something special! I'm beyond blessed to do this thing called life with a woman that is really one of a kind. I'm excited for what the future holds😘 Happy First Mother's Day Meli," Wilson concluded.
Best known for her childhood role as Kady Kyle on My Wife and Kids, Posey has starred in various projects such as Heaux Phase and A House Divided. She has also launched her swimwear line called Honey Dip Swimwear.