Investigators Trying To Piece Together Details Of The Sacramento Mass Shooting That Killed Six
Family members want answers about the incident that witnesses say was a drive-by shooting.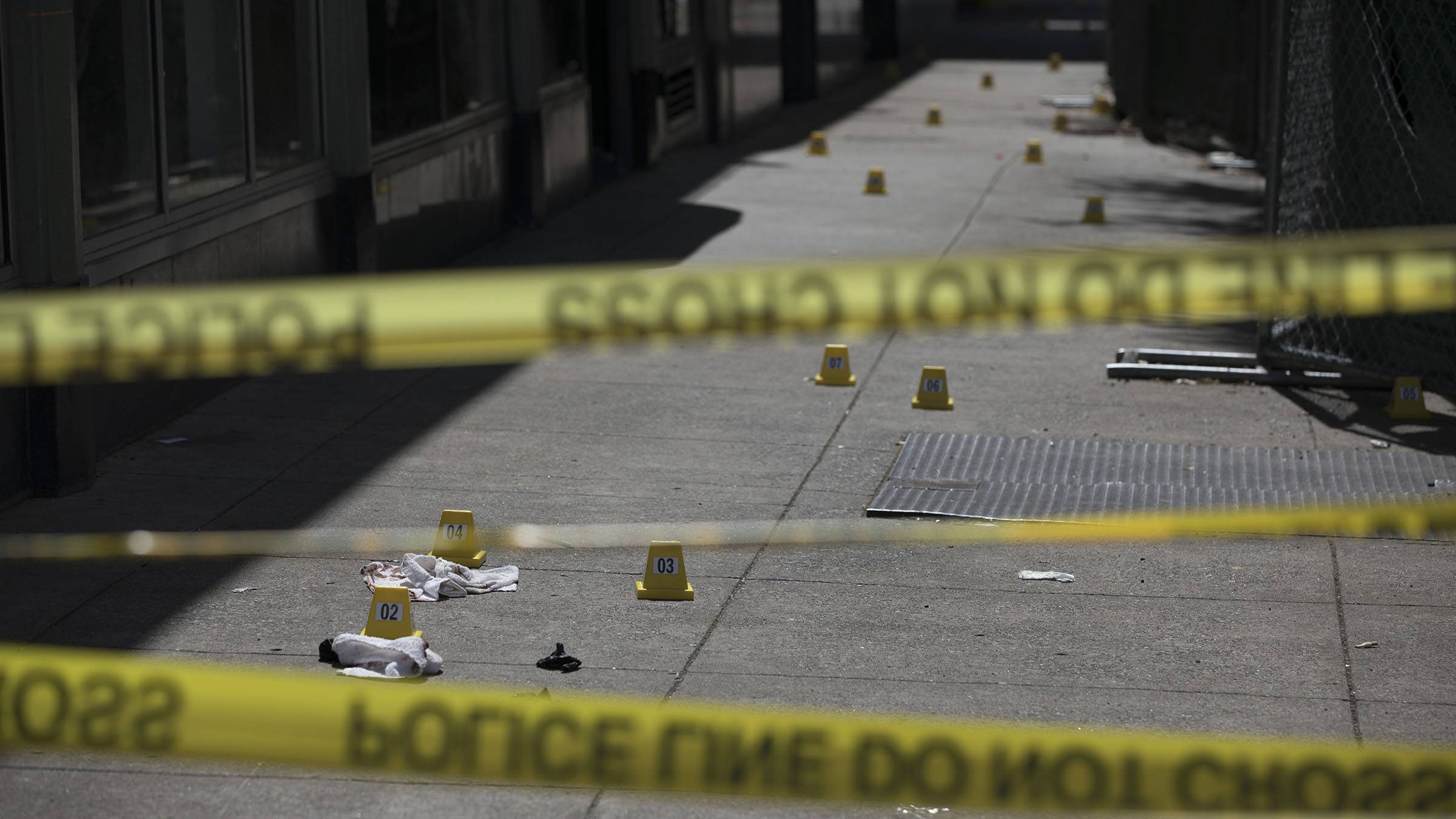 Police are searching for suspects in a deadly mass shooting early Sunday morning (April 3) in downtown Sacramento that took the lives of six people and injured 12 others.
Bystander video shows a brawl involving several people outside a nightclub followed by gunfire at about 2 a.m. Sunday, CBS Sacramento reports. The police discovered six people killed at the scene.
Multiple sources said it was a drive-by shooting, but it's unclear whether or not the suspects jumped out of the vehicle and fired their weapons, according to CBS Sacramento.
Authorities did not immediately identify the victims. However, family members showed up at the scene and spoke with reporters. News outlets identified two of the people killed as Sergio Harris, 38 and De'vazia Turner, 29.
"He's a good guy," said Turner's father, Frank Turner, who went to the crime scene and was frustrated by not getting information from investigators about the incident.
"They didn't tell me nothing. They just confirmed that he was the body over there. That's it," Turner told CBS Sacramento. "As I understand it, he walked out the club, he walked into s***t and he got shot."
A Twitter account identified as BLM-Sacramento sent condolences to the families of the "6 valuable lives" that were lost. The post identified three additional victims as David Jackson,  Ricardo Ignacio and Johntaya Anderson.
At a Sunday afternoon press conference, Sacramento Police Chief Kathy Lester confirmed that a fight preceded the fatal shooting and multiple shooters were involved, The Sacramento Bee reports. She said police cameras in the area captured portions of the shooting and investigators recovered a stolen handgun at the scene. Lester noted that the violence was "unprecedented in my 27 years with the Sacramento Police Department."
President Biden condemned the gun violence and called for action.
"America once again mourns for another community devastated by gun violence. In a single act in Sacramento, six individuals left dead and at least a dozen more injured. Families forever changed. Survivors left to heal wounds both visible and invisible," Biden said in a statement.
"But we must do more than mourn; we must act. That is why my Administration has taken historic executive action to implement my comprehensive gun crime reduction strategy — from standing up gun trafficking strike forces to helping cities across the country expand community violence interventions and hire more police officers for community policing."
California Gov. Gavin Newsom sent condolences and pledged assistance in the ongoing investigation.
"Sadly, we once again mourn the lives lost and for those injured in yet another horrendous act of gun violence. Jennifer and I send our heartfelt condolences to the family, friends, and to the wider community impacted by this terrible tragedy," Newsom stated.
"As it is early in this investigation, my Administration will continue to work closely with local and state law enforcement as we monitor the situation," the governor added.
Meanwhile, the Dallas Police Department is investigating a fatal shooting Sunday (April 3) at 12:13 a.m. at a concert in southeast Oak Cliff. The police said Kealon Dejuane Gilmore, 26, was found lying near the stage with a gunshot wound to the head. At least 11 other people were injured.
At this point, investigators believe someone fired a gun into the air followed by another individual firing at the crowd. They are trying to determine a motive and the circumstances "surrounding this murder."