BET Awards 2023: 5 Essential Things to Know About the Enchanting Ella Mai
The British singer captivated viewers with her stunning performance during last year's ceremony.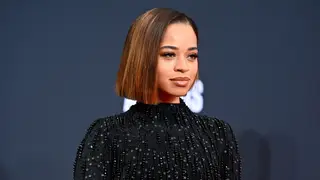 British singer-songwriter Ella Mai rose to fame with her hit song "Boo'd Up" in 2018, and has since become a well-known name in the music industry. Her unique blend of R&B, soul, and pop has captivated fans.
The songstress took the stage by storm at the 2022 BET Awards performing her hit singles "Boo'd Up" and "Trip" with special guest appearances by Babyface and Roddy Ricch. Her powerful vocals and magnetic energy left the crowd in awe, solidifying her as one of the night's standout performers.
As she continues to make waves with her music, get to know the artist behind the hits. Here are five things to know about Ella Mai. And don't forget to catch the BET Awards 2023 live on Sunday, June 25 at 8pm/ET.
She earned several awards in a short time

After bursting onto the scene with the release of her smash single "Boo'd Up," the songwriter soon began racking up various accolades and recognitions, including four Grammy Award nominations, one of which she won for "Best R&B Song," for her work on her breakthrough record.

She was on a musical reality television show

In 2014, the "Trip" singer and two other ladies, who called themselves Arize, auditioned for The X Factor UK during the series' eleventh season. The group sang Little Mix's "Little Me."

She's worked with several A-list artists

During the 22nd annual BET Awards Ella Mai gave a soulful performance alongside legendary songwriter Babyface. The singer has also worked with Ty Dolla $ign, John Legend, Chris Brown, including many more, and she's even toured with Khelani.

She was named after a jazz icon

In an interview with Nylon, the singer revealed that her mother, who's "a really big jazz fan" jazz music, actually named her after Ella Fitzgerald. She added, "And my brother is named after Mark Davis."

Alicia Keys and Lauryn Hill are her influences

As a young child, Ella Mai was always surrounded by music. She once said her mother "always used to play The Miseducation of Lauryn Hill over and over and over again."

She added, "My mom's side of the family is Jamaican, so [my grandparents and my mom] used to play a lot of reggae in the house. And then soul stuff, like Erykah Badu and R&B, like Alicia Keys."