Faith Evans Settles Bitter Divorce Battle With Stevie J
The musical couple was married in Las Vegas in 2018.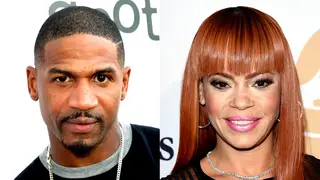 The musical couple were married in a surprise wedding in Las Vegas in 2018, but have known each other since early in their careers at Bad Boy Records.
Radar Online is reporting that the details of the divorce settlement have not been disclosed, but it reportedly includes spousal support and attorney fees.
According to the documents, Evans "entered into a written agreement regarding their property and their marriage or domestic support partnership rights, including support." Monthly spousal support had been a major sticking point during the bitter dispute. The couple did not have a prenuptial agreement.
The filing noted, "There are irreconcilable differences that have led to the irremediable breakdown of the marriage or domestic partnership, and there is no possibility of saving the marriage or domestic partnership."
Evans was previously married twice, once to The Notorious B.I.G. and secondly to record executive Todd Russaw. While this is Stevie J's first marriage, the former Love & Hip Hop Atlanta star has had numerous previous relationships that resulted in six children.
Stevie J is a Grammy Award-winning producer and former reality tv star, while Evans is a Grammy-winning singer and was known as The First Lady of Bad Boy. In an interview with BET about children of famous parents, CJ Wallace--Evans' son with Notorious B.I.G., said that his favorite song by his mother is her 1995 hit, "Used to Love Me."
About six months after filing for divorce, Stevie J issued a public apology to Evans on social media, writing, "I've hurt you, disrespected you and humiliated you in front of the world," he wrote. "From this day forward I promise to listen to your feelings and be more delicate with your heart."