YSL Defense Lawyer Claims He Gave Young Thug 'Street Cred' By Hitting Him With His First-Ever Felony Charge in 2014
Suri Chadha Jimenez represents YSL Polo, who had the RICO charges against him dropped following erratic behavior.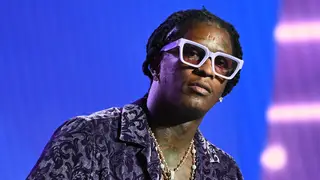 A defense attorney on the YSL legal team is making the claim that he provided Young Thug with "street cred" after tagging him with his first felony charge.
Suri Chadha Jimenez, who represents the YSL Polo – the label affiliate who recently had the RICO charges dismissed against him after displaying erratic behavior during court proceedings – said on the Infamous Sylvia radio show Friday (September 15) that he was the attorney who prosecuted the Atlanta rapper on his first weapons charge back in 2014.
"I know that, because I prosecuted him," Jimenez said alongside fellow co-attorney Nicole Diaz. "I gave Mr. Thug his first felony. So I gave him some street cred."
This is just the latest outrageous thing Jimenez has been involved in during the YSL RICO trial. Back in May, he faced numerous contempt charges and potential jail time after showing up late for court. He was ordered by Judge Ural Glanville to buy lunch for the other lawyers on the case as punishment for his shenanigans.