Muslim Woman Says TSA Forced Her To Show Her Bloody Pad During Private Body Search
Zainab Merchant filed a complaint against the DHS for the repeated invasive searches she's experienced.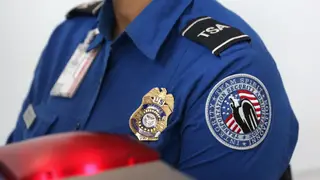 A Muslim woman, who has a lengthy history of being stopped and searched by the Transportation Security Administration, said she was forced to show her bloody pad during a recent search at a Boston airport.
Zainab Merchant, 27, is a graduate student at Harvard University. She was recently flying from Boston to Washington, D.C., for a speaking engagement when she was singled out by a TSA agent, reported HuffPost.
During the pat down, an officer began to touch Merchant's genital area, and felt something that required they take a "deeper look." Merchant, who wanted to keep the search in public to avoid an unnecessary cavity searching, attempted to explain that she was menstruating and was wearing a pad.
Although she wanted to stay in the view of witnesses, Merchant was allegedly coerced into going into following two TSA officers to a private office. In this location, Merchant was allegedly asked to pull down her pants and underwear.
She obliged and revealed her bloodied pad to the officers, whom declined to give her their names and badge numbers. According to Merchant, the TSA officials left the room while covering their badges with their hands.
Merchant says this is not the first time she's been subjected to unfair and extensive searches at airports. Over the past two years, Merchant claims that she has been stopped and extensively searched every time she boarded a flight or re-entered the U.S. after an international trip.
Last week, the ACLU suggested Merchant was placed on a government terrorism watchlist, resulting in her unfair treatment at airports. The ACLU has since filed a complaint against the Department of Homeland Security on Merchant's behalf.
When asked for comment, TSA spokesperson Lisa Farbstein told Bustle "the Department of Homeland Security can neither confirm nor deny whether someone is on a watch list or provide any information about an individual who may be on federal watchlists or reveal any law enforcement sensitive information."
"I just want them to give us answers as to why this is happening and what I can do to rectify it," Merchant told HuffPost. "Because I haven't done anything wrong. Just give us some answers."