OPINION: Here's Why Black Women Will Turn Out On Election Day And What We Need In Return
If we don't show up and vote, we may never see the progress that we need in our country.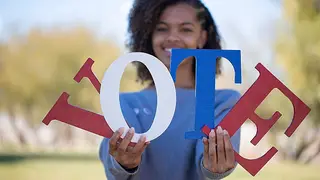 This country's democracy was founded on the fundamental right to vote – to have one's voice heard. However, as with too many other rights, Black women were not truly given this power until nearly 200 years after our Constitution was adopted. We take this duty seriously, and we show up when it's time to vote. Time and again we have been our democracy's saving grace, not only by turning out to vote in record numbers, but by mobilizing our communities to do so as well.
Once again, Black women are being called upon to turn out in record numbers in the 2022 midterms – and we're more motivated than ever to cast our ballots. According to new Higher Heights and Change Research polling, nearly two-thirds of Black women said they are more motivated to vote now than ever before, but our votes must not be taken for granted. We need to see progress – from greater representation to action on the concerns most impacting our communities.
Black women turn out to vote because we know our power. In our recent survey, 80% of respondents said Black women have the power this November to make change on issues that matter most to their community. Looking beyond the data, as a Black woman who has been personally engaged in political organizing for decades, I have had a front seat to witness our community band together every election season and use our collective power to shape our country for the better – it's why I founded Higher Heights, the nation's only organization exclusively dedicated to providing Black women with a political home.
Through our #BlackWomenVote Campaign, we've been able to cultivate a community of women who want to take action and make a difference every Election day. We mobilize our friends, family members, neighbors, sorority sisters, churches, or really anyone who will listen. In 2020 alone, 66.3% of Black women voted and we were at the center of determining one of the most consequential presidential elections in our country's history.
Beyond knowing our power, Black women vote because we know we need to expand the voice we have within our government to bring about change that will help our communities thrive. Eighty two percent of Black women who participated in our recent poll said it is important to them that Black women be elected and nominated to more positions of power in our government. And, when asked to describe Black female representation in politics, an overwhelming majority responded that Black women are "underrepresented," or that there needs to be "more representation." Without question, Black women have made significant strides toward greater representation – we've finally seen the first Black woman Supreme Court Justice take her rightful seat, the first Black woman became Vice President, a record number of Black women are serving in Congress, and hundreds of Black women are running up and down the ballot in 2022. But still the gaps in representation that remain are glaring – no Black women currently serve in the US Senate, and we have yet to elect the first Black woman governor.
Finally, Black women will be showing up in droves at polling places this November because we sit at the intersection of the most pressing issues facing our nation – and we want to see change that will support our communities. We are far from single issue voters. From the rising cost of housing and other basic goods to restrictions on abortion access to threats on honest education for our children and so much more. There are a multitude of issues and causes that are motivating Black women to turn out this election year and if we don't vote to ensure progress on these issues, we know our families and communities will be on the line.
We vote to honor the blood, sweat, and tears that those who came before us shed to make this inalienable right a reality for us. We vote because we recognize that, from inflation to abortion, our country needs representation that's going to fight for real progress, not leave a path of destruction in their wake. Our democracy is ever-evolving and Black women know this. We also know that if we don't show up and vote, we may never see the progress that we need in our country.
We may be tired, but we continue to soldier on, often shouldering the responsibility of safeguarding our democracy and keeping our country on the right path. Every election year, we use our votes to ensure that our country stays on a path towards parity, and, if our past is any indication, we have our work cut out for us in the future.
Voting is not a one time deal. Voting is something that we must do every year. Black women know this, and we will continue to show up at the polls in record-breaking numbers to keep our country moving forward. And we want every single American to join us in doing so.
---