Ketanji Brown Jackson Becomes 104th Associate Justice Of The U.S. Supreme Court
The first Black woman enters the high court's bench at a time of controversial rulings, but she will write important opinions of her own in the fall.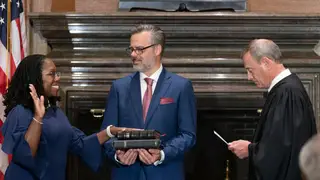 Judge Ketanji Brown Jackson made history Thursday (June 30) when she was sworn in as the 104th associate justice of the U.S. Supreme Court – the first Black woman to join the nation's highest court.
Chief Justice John G. Roberts Jr. administered the constitutional oath, and retiring Associate Justice Stephen G. Breyer, 83, whose seat on the bench Jackson has filled, administered the judicial oath. Jackson's family attended the event held in the Supreme Court's west conference room.
"I am truly grateful to be part of the promise of our great Nation. I extend my sincerest thanks to all of my new colleagues for their warm and gracious welcome," Jackson said after the ceremony, CNBC reports. 
"I am also especially grateful for the time and attention given to me by the Chief Justice and by Justice Breyer. Justice Breyer has been a personal friend and mentor of mine for the past two decades, in addition to being part of today's official act."
A formal investiture ceremony will take place at a special sitting of the court in the courtroom at a later date.
Jackson, 51, joins a conservative-dominated high court that has made a sharp shift to the right during the current term, reiterating a narrative of how politically and socially divided the nation has become. Jackson will occupy the bench as critical cases on affirmative action and the Voting Rights Act loom in the upcoming session.
Nominated by President Biden from a shortlist of highly qualified candidates, Jackson was elevated from federal appeals judge to the high court on April 7, in a 53-47 confirmation vote in the Senate.
Jackson served as Breyer's Supreme Court clerk early in her career. She's expected to align with the high court's liberal bloc as Breyer did while he was on the bench. The court's conservatives hold a 6-3 super majority and have shown a willingness to upend decades-old legal precedence. That does not change with Jackson entering the bench.
The court has also agreed to hear a congressional redistricting map case from Alabama involving the packing of Black voters into a single congressional district that dilutes their voting power, which Section 2 of the landmark Voting Rights Act prohibits. The court's decision can affect a similar case in Louisiana.
Jackson, a Washington D.C. native, grew up in Miami. She went on to graduate magna cum laude from Harvard University and earned her law degree from Harvard Law School, where she was editor of the Harvard Law Review.