Breonna Taylor's Ex-Boyfriend Charged With Drug Trafficking
Jamarcus Glover – who police were seeking when they killed the 25-year-old EMT in 2020 – is charged with conspiracy to traffic.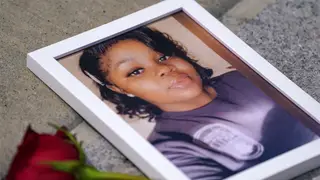 Jamarcus Glover, the former boyfriend of Breonna Taylor who was at the center of a raid that led to police officers fatally shooting her in March 2020, has been charged with numerous drug trafficking offenses.
According to the Louisville Courier-Journal, Glover was charged with conspiracy to traffic in a controlled substance, committing unlawful transactions with a minor with illegal controlled substances, engaging in organized crime, and deploying minors to transport and sell narcotics. Additionally, he was charged with possessing a handgun while being a convicted felon.
Glover and at least two other suspects allegedly used minors to transport and sell heroin, fentanyl, and other illegal drugs in the city. When law enforcement obtained a warrant to search Glover's home, they recovered several firearms and devices that are used to weigh narcotics.
In March 2020, the Louisville Metro Police Department targeted Glover as one of the potential suspects in a drug investigation that resulted in the raid at Taylor's apartment. At the time, she was home with Kenneth Walker, her then-boyfriend who fired off a shot that hit one of the police officers who attempted to enter the apartment. Taylor was shot and killed by police officers in the botched raid.
No drugs were found on the premises and no officer was charged in the shooting.
Walker was charged with attempted murder and first-degree assault for the shooting of Louisville Metro Police Sgt. Jonathan Mattingly but the charges were later dropped by prosecutors.
After suing the city of Louisville for "the unlawful police raid that led to Ms. Taylor's death," and the violation of his constitutional rights due to the "no-knock" warrant,  Walker won a $2 million settlement in December 2022.
Glover's arrest is his latest run-in with the law. In January 2022, he was arrested and pleaded guilty to several drug charges, including cocaine trafficking on Nov. 30, 2020. He was also charged with driving on a suspended license, possession of marijuana, and expired plates by Jeffersontown Police in the same month.
Eventually, he pleaded guilty to avoid an eight-year prison term and was sentenced to serve 120 days of home confinement and five years probation which he served in his home state of Mississippi, per his request.
Glover is scheduled to appear in court on Wednesday (October 4).