Op-Ed: Megan Thee Stallion And Other Black Women Deserve Better
The misogynoir that exists when it comes to vilifying Megan Thee Stallion, proves that many of us would rather support the culprit and not the victim.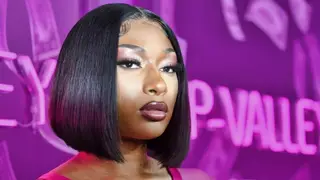 In the summer of 2020, social media exploded with allegations that rapper Tory Lanez (Daystar Peterson) shot Megan Thee Stallion (Megan Pete) in a Hollywood suburb. And since the start of the trial and even before, many have already decided who was at fault, independent of a legal verdict. The court of public opinion has always been harsh, but what we have seen with this case is a continuation of a trend to vilify Black women for sharing their experiences, and a lot of the vitriol is coming from Black men.
No matter what happened on that night, which we may never know, we do know that Megan Thee Stallion is a victim of gunshot wounds and of the public onslaught painting her as a part of an evil conspiracy. These conspiracies have been spread wildly by many men in hip-hop media who are trying to discredit Megan's story. While the court of law will soon issue its verdict in this case,  the implications of this whole saga will be felt for years. When we have prominent brands and figures villainizing a Black woman for telling her story, how could we ever expect women to report their abuse? Furthermore, when we tell Black women that misinformation and conspiracies are more valid than their own lived experiences, how can we ensure justice and safety for them?
The second Megan Thee Stallion stated that Lanez shot her, everything she said and did was analyzed by people looking for any flaw in her story. Many called Megan a snitch and a liar, while others ran to support the man she accused. Platforms like The Joe Budden Podcast, DJ Akademiks, and Math Hoffa's My Expert Opinion dedicated entire segments to discussing how Megan was violent, promiscuous, an alcoholic, and has done some shady business deals in her disputes with her label, 300 Entertainment. The criticisms Megan received outline a double standard in hip-hop that often leaves women on the back burner.
When male rappers are shot or accused of doing something violent, there are no conversations about who they slept with, how they make entire albums about drugs and alcohol, or the tactics they use to get out of label disputes. In fact, many of these characteristics make male rappers more popular. Historically, when male rappers face violence, they are believed and supported, not villainized, and the fact that female rappers do not receive the same treatment is chilling and shameful.
Whether or not Tory Lanez is found guilty, innocent, or has a mistrial, we will still have to deal with the distrust this case has created in the community. Many prominent men, who have millions of followers and platforms that reach tens of millions, have bashed Megan Thee Stallion and called her experience into question. Some have gone as far as to claim that Megan is the villain in this story, painting her as an evil liar who is sacrificing Tory Lanez to build her career. In light of these baseless claims, one has to think about how many women saw the vitriol Megan received and now feel unsafe about coming forward. We need to consider the long-term effect this case will have on women, many of whom experience the same violence every day. The evidence is damning towards Tory shooting Megan, and there is a chance that the courts will agree, but after this case is ruled on, we need to look at how each of us engaged with this trial. What did we say? What did we share? And to what end? The only people who will decide what happens to Tory Lanez legally are the judge and the jury, so when you post about how much a woman drank or how many men she has slept with, you are not affecting whether or not Tory Lanez will be found innocent, but you are setting a dangerous precedent for the women in your community.
Violence never happens in a vacuum. It is either a continuation of a historic trend or a look into what is to come. Sadly, Megan's story is an addition to a long-standing history of Black women being demonized for telling their stories. This current case is reminiscent of the Anita Hill hearings, where Hill testified about how she was sexually harassed by then-Supreme Court nominee Clarence Thomas and was vilified nationally from coming forward. Even R. Kelly's victims were seen as unreliable and fast in the early 2000s, and the case was often used as fodder for comedy. We as a community failed Megan Thee Stallion with this case, and there is no way to undo the trauma she and the women watching endured. Our only way forward is to tackle the issues of misogynoir within hip-hop and the broader Black community and create systems so that the next time a woman comes forward she feels safe and supported. That means we as Black men need to unite to support survivors like Megan Thee Stallion and fight off the misogynoir that permeates our community.
 Evan Malbrough is a  Fellow at the ACLU of Georgia and a Board Member at the Andrew Goodman Foundation.