Obama Re-Election Drives Gun Sales
Texans are stocking up on firearms amidst news that President Barack Obama could receive a second term.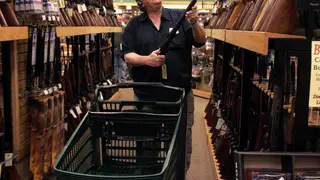 Gun sales are up in Texas not because it's hunting season, but because some believe President Barack Obama's re-election is fuel to bear more arms.
The rush is similar to one seen shortly after the president's 2008 election, Fort Worth gun shop owner DeWayne Irwin tells a local newspaper.
"Look who the Republicans are trying to put against Obama," he said. "It's the Keystone Kops and people are getting scared. People are terrified he's going to get re-elected and then he won't care about getting votes next time. He'll just pass whatever legislation he wants."
The additional guns bought aren't necessarily to harm anyone, but buyers are worried that Obama's re-election could strike a major gun control push.
"I'm constantly getting questions from people in the gun community about this [issue]," Alan Korwin, author of nine gun law books, including Gun Laws of America, said. "People are concerned that if Obama wins, as a lame duck, he will go after firearms in a way we have never seen before."
Others credit the spike in sales to tax refunds and National Geographic's Doomsday Preppers show, which chronicles people preparing for the end of the world.
 BET National News - Keep up to date with breaking news stories from around the nation, including headlines from the hip hop and entertainment world.
(Photo: Jessica Rinaldi/Landov)