#Unboxed Vol. 5: Nite Bjuti Employs The Caribbean Diaspora With Intention In Their Music
The avant-garde jazz trio's debut album will take listeners on a journey of discovery in so many ways.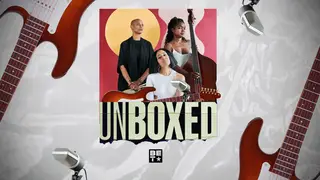 Nite Bjuti's music is definitely avant-garde, but not so much that it's incomprehensible.
The Brooklyn-based experimental jazz trio made up of singer-songwriter Candice Hoyes, Grammy-winning SoundChemist Val Jeanty, and bassist Mimi Jones ponders themes and human emotions in their music, but oftentimes in a more sonic manner than a lyrical one.
Individually, each artist has an extensive musical history and has spent years perfecting their respective crafts – whether it be instrumentation or songwriting. But together now, they're ready to use years of improvised mastery of electronics, bass, spoken word, vocalism, sampling and more on their debut, self-titled album.
But as important as their musical understanding, Nite Bjuti's output wouldn't be as impassioned if it didn't draw from the heritage that inspires their namesake. The trio employs lessons from centuries-old Haitian folklore called "Night Beauty," about a girl whose bones begin to sing in her afterlife with her spirit seeking justice.
With two of the group's members being first-generation immigrants – Hoyes and Jones' parents emigrating from Jamaica and Barbados, respectively – and Jeanty as a native Haitian who moved to the United States at age 18, the trio's roots are firmly in the Caribbean – where tradition is everything.
"One thing that is a shared experience is that music is a huge part of island culture as it is in many Black communities," Hoyes told BET.com during a recent interview with her and Jones. "The main public holidays and certainly spiritual occasions are all underpinned with music and so we do pull some of those rhythms, some of those cadences out of those kinds of music."
Perhaps a seminal example of this is through their January-released debut single "Mood (Liberation Walk)", which ponders the existential themes of a woman coming of age and the deep mental and spiritual maturity that comes with it.
"What's the point of freedom if you don't feel free? / Ask yourself," Hoyes contemplates on the song, which features background echoes of children singing "Miss Mary Mack" while the music video for it, directed by Hoyes, shows young girls jumping rope – symbolizing their leap into puberty and the new emotional reality they've been roped into.
Sonically, "Mood (Liberation Walk)" features instrumentation specifically used in Caribbean cultures, which helps drive home a full sense of connectivity between the music and its message.
"What Val is playing is called rara and it's a form of Haitian street music that the Karneval typifies in Haiti," says Hoyes. "It has a celebratory, festive, amazing energy to it that has an origin that goes back and is communal, but I think she really makes it her own."
For the visual, Hoyes delved deep into Caribbean archives from the early 1900s. It's this love of her heritage that she says is often hard to find unless you intentionally look for it.
"I've always had a fascination with and studied Black history. I've always dove into folklore and those origin stories that are not so easy to access because history is so Eurocentric," she explains. "I've just always pulled inspiration from that, and I think with this group, because we share some of these identity experiences, we're able to really delve deeper into them."
Nite Bjuti's forthcoming LP, which is slated for an April 14 release, even has specific intent when it comes to funding. The trio was able to secure a UMEZ Arts Engagement Grant for a 2022 mixed media installation commissioned by the Schomburg Center for Research in Black Culture as well as being the 2020 recipients of the NYC Women's Fund in Jazz Music to fully fund the project.
"Mr. Shorter really loved our performance," says Hoyes. "That was one of those key inspirations that just told us to really dig deep and manifest an album, even in such an unstable time. I think having that kind of assurance of someone that you've always learned from and drawn great courage from in their music and makes you want to really reach for the stars and that's kind of where we are now."
Currently, Nite Bjuti is just days removed from releasing the second single from their self-titled debut album called "Illustrious Negro Dead," which reclaims an impassioned plea that the dignity and legacy of Black artists do not die in what the group calls "conspicuous forgetfulness." The song has Hoyes drawing inspiration from Zora Neale Hurston and the content of her non-reciprocated 1945 letter to W.E.B. DuBois. That unrequited offer of discussion, the trio says, is "an abject gender rift still at play among contemporary artists."
And while Nite Bjuti may consider themselves an "avant-garde" group, their music isn't simply a collection of thoughts and sounds meant to be more eclectic than intentional. Rather, they say their forthcoming LP is easy for the listener to follow if they have even a passing interest in the diaspora.
"I'm a fan of avant-garde but I have to say sometimes it takes a second to get the relationship, like, how do I get into this? I see people having a hard time like, 'What is it that I focus on? This sounds like noise?'" explains Jones. "Yes, we are making noise on some of the tracks. Sometimes we are playing in time with a groove, but we're not always playing with a groove.
"It's a fun album," she adds. "It's one that you would probably, as a listener, have to listen to several times, you'll probably say, 'Wow, I didn't hear this the first time.' But if you put headphones on, you know you're gonna notice something different. So it's fun in that way."
Nite Bjuti says their music is in honor of and inspired by the liberation walk they're taking which has become their journey and purpose.
"[We're] moving in all these different potential directions, moving inward, moving far out into space, moving into imagined histories, the three of us moving closer to each other and creating all these connection points for the listeners too," concludes Hoyes. "I feel like all of us feel like what we do is healing for us, but it's really in service of building community, extending the legacy that we come from. Black legacy."
Nite Bjuti will be available for streaming and purchase on April 14. The trio is slated to release their third single, "The Window," on March 14.