Shanquella Robinson: Rally Held In Hometown Of Charlotte, North Carolina
Family and community of Robinson, who died while vacationing in Mexico, are calling for justice.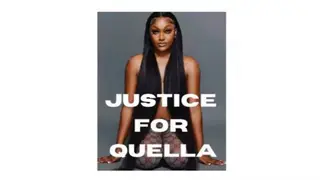 Family members of Shanquella Robinson and her hometown held a rally calling for justice for her death..
According to ABC News, on Saturday (Dec. 10), Robinson's rally was held at Little Rock AME Zion Church in Charlotte, North Carolina. Family, friends and city leaders gathered in support.
At-large county commissioner for Mecklenburg County, Pat Cotham, said Robinson's story "was just startling" and told the family that she was "so very sorry for the loss of your precious Shanquella."
A representative for Winston-Salem State University said "her spirit lives on" at the school which Robinson attended. "She will never be forgotten."
Robinson, 25, lost her life while on an October trip to San Jose del Cabo, a resort in Mexico, with six friends. Local authorities are investigating her death as a homicide.
The rally took place just weeks after her homegoing service where hundreds gathered to pay their respects. Robinson's mother, Sallamondra Robinson, alleges that her daughter's "friends" talked about the outfits they would wear to Robinson's funeral, shortly after her death.
"They was crying and said they never had a fight [and] they even sat there and said what they were picking out to wear to the funeral," Sallamondra said during her ABC News interview. "They sat down here and we were talking about what colors we were gonna wear and what we were gonna do. And they sat here and picked out what they were wearing to the funeral."
The investigation into Robinson's death is ongoing..