Vice President Kamala Harris and BET Honor Young Black Trailblazers During Black History Month
The invitation-only celebration was held at the private residence of Harris and Second Gentleman Doug Emhoff.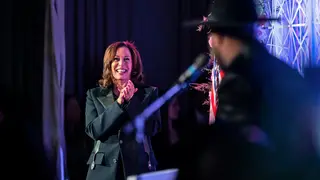 In honor of Black History Month and in keeping with the theme of celebrating Black excellence, Vice President Kamala Harris and Second Gentleman Douglas Emhoff hosted trailblazing Black leaders at their private residence last month.
In collaboration with BET, Harris and Emhoff opened the door to their home on the evening of February 28 to honor a group of emerging, young Black leaders who are making impactful changes in several industries throughout the country. Harris spoke to more than 400 guests at the event about the importance of Black History Month and the responsibility of each generation to carry forward the "baton."
"Of course we all know we celebrate Black History every day of the year," said Harris during her remarks. "Welcome to a party in February. We stand on broad, great shoulders, on the ancestors and the heroes who we honor who through toil, through struggle, through sacrifice, through the shedding of blood, created a path on which we could follow—with an expectation, we would understand the responsibility and the opportunity of the moment in which we carry it."
Her message was a reminder of the sentiments she shared at last month's Black History Month reception at the White House:
"It is those stories that remind us that Black history is American history, living history, breathing history, history that we create every day; a history that we must teach and celebrate every day."
Actresses and singer Coco Jones and Dominique Thorne were among the invited guests who spoke at the program. Poet Miles Hardingwood also performed a beautiful spoken word piece for those in attendance. And a party isn't a party unless there's a DJ set with D-Nice.
Other guests in attendance included Jalen Smith, who at 18-year-old became the youngest elected Black mayor in 2022 and now governs the town of Earle, Arkansas. The first Black woman to hold the position of Michigan Supreme Court Justice Kyra-Harris Bolden was there as well as Grammy Award winning poet and spoken word artist J. Ivy, the founder of #1000BlackGirlBooks, Marley Dias, the CEO of Henry Enterprises, Davon Henry, the youngest lieutenant governor in Pennsylvania history, Austin Davis, the first African American woman to pilot a commercial spacecraft, Sian Proctor and many other enterprising Black  changemakers who refused to take no for an answer, saw a problem and created a solution, and wanted to leave the world with better things than what they found in it. 
"We are here today to celebrate extraordinary young, Black leaders who are blazing trails in our community. Who are giving us leadership and representation in spaces that Black folks are all-too often not present," said president and CEO of BET, Scott Mills.
"The Emerging Leaders Reception was a reminder that though we stand on the shoulders of giants, we proudly champion the brilliant, Black emerging leaders of today who are breaking glass ceilings and creating a roadmap to the future of Black excellence and pride," said BET's vice president of Social Impact Brittany Packnett Cunningham. 
She continued, "At BET, we celebrate the cultural significance of Black excellence every day, and what an honor it was to partner with the Office of the Vice President to celebrate our legacy and culture."
Take a look at some of the highlights from the evening's celebration below.