Mississippi Environmental Regulator Denies NAACP's Jackson Water Discrimination Claim
Mississippi's 'racist funding policies' are at the root of the majority-Black city's water crisis, says the civil rights organization.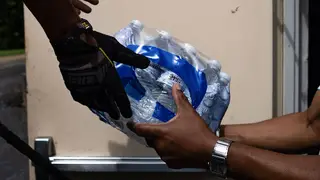 A Mississippi state official denies discriminating against the capital Jackson, a majority-Black city, in how it distributes federal funds to support state water systems.
Mississippi is under the shadow of a U.S. Environmental Protection Agency (EPA) investigation into whether it has refused to fund improvements for Jackson's decrepit public water system that has plagued the city for generations, as well as an NAACP discrimination complaint over the state's alleged mishandling of the city's recent water crisis.
The Associated Press reported Sunday (Jan. 8) that Mississippi Department of Environmental Quality Executive Director Christopher Wells wrote in a letter dated Dec. 16 to the EPA that the NAACP's complaint lacks "a single fact to support" its allegation.
He believes the complaint is politically motivated and blamed Jackson officials for decades of water plant mismanagement. Wells said the EPA knew about the problems before the recent crisis, pointing to a 2012 consent decree between Jackson and the EPA over a Clean Water Act violation.
"Jackson received a loan for every completed application it submitted. And, because the amount of the loan is based on the cost of the project, no loans were reduced for any reason that could be considered discriminatory," Wells added, according to the AP.
The NAACP's federal complaint alleges that Mississippi violated Title VI of the Civil Rights Act of 1964, which prohibits federal fund recipients from denying benefits on the basis of race, color or national origin.
NAACP President and CEO, Derrick Johnson, said in a Sept. 27 statement it is apparent that Mississippi's "racist funding policies" have blocked much-needed water infrastructure improvement in Jackson that could have prevented the crisis.
"In 2022, there is no excuse as to why our government cannot provide the necessary infrastructure to ensure that all of its residents have access to this basic human right," Johnson wrote. "The residents of Jackson, Mississippi, a predominantly Black community, have suffered at the hands of discriminatory state leadership for far too long."
In the most recent crisis, Jackson residents were already under a state-issued boil-water notice for more than a month when excessive rainfall and flooding further damaged the city's water system, prompting officials to declare a state of emergency on Aug. 30.
It plunged the city further into a crisis, as city and state officials scrambled to fix the problem at the water treatment plant. Residents didn't have safe drinking water at home or the water pressure was so low that they couldn't bathe, cook and flush toilets.
The water pressure was not restored until Sept. 6, and the boil-water notice remained in effect until Sept. 15.
Jackson's population is about 83 percent Black. For decades, city officials couldn't afford to make timely repairs to the water system as the tax base eroded from White flight to the suburbs when public school integration started in 1970, and state and federal spending failed to make up the difference. About 25 percent of the current residents live in poverty.
The AP reported in September that Mississippi Gov. Tate Reeves opposed spending state money on Jackson's water and sewer projects in 2011 when he was state treasurer, boasting that his policy position was evidence of his fiscal conservatism.
EPA Administrator Michael Regan has visited Jackson multiple times and has said "longstanding discrimination" has contributed to the decline of the city's water system, according to the AP.