Who's The G.O.A.T. Rap Crew? YMCMB vs So So Def | Round 3
In the tournament to decide the greatest rap crew of all time, this Round 3 battle decides who wins the Dirty South region.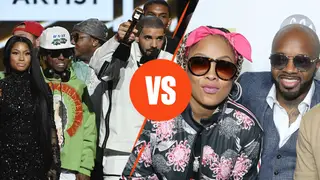 In recognition of hip hop's 50th anniversary, BET Digital, in partnership with Ambrosia For Heads, is celebrating the culture by hosting a bracket-style competition that allows you to determine hip hop's greatest crew.
Rather than having "experts" tell you who is the greatest of all time, this is your opportunity to collectively make that decision. After giving the opportunity to any and all fans to provide feedback on which crews should be included, 32 collectives from different regions, styles, and generations have been selected—all vying for that #1 spot. When the final battle is over and the last vote is cast, you will have determined who is your Greatest Rap Crew of All Time.
In this celebration of hip hop and all of its talented crews, your vote decides the winner, so vote below.
Who's The G.O.A.T. Rap Crew? YMCMB vs So So Def | Round 3
The battle for regional supremacy in the Dirty South bracket sees the clash of two veteran movements in different cities. Jermaine Dupri's So So Def has become an Atlanta institution, even while aligning with talent nationwide. Similarly, the Young Money Cash Money Billionaires are New Orleans pioneers who expanded their collective with unique voices from near and far. JD has collaborated with Lil Wayne and Birdman for over 20 years, including "Hardball,"—a song that merged a teenage Weezy and Bow Wow. Shad Moss, an essential piece of So So Def, later joined Wayne and other longtime collaborators at YMCMB. 
Both of these crews knew how to appeal to the mainstream without compromise and, through remixes and collaborations, demonstrated how rap music was at the epicenter of popular culture. After YMCMB takes a statement victory over No Limit Soldiers and previously defeated T.I.'s Grand Hustle, they face a So So Def who bested the Dungeon Family and Quality Control. Only one of these crews can represent the Dirty South in the four final brackets. Your vote may decide the winner.
YMCMB
(Defeated Grand Hustle in Round 1 and defeated No Limit Soldiers in Round 2)
 Few crews, if any, can say they spawned a second wave as successfully as YMCMB. Cash Money Millionaires introduced themselves to the mainstream "as an army" in the late 1990s, with The Hot Boys and Big Tymers combining their fame while flaunting their fortunes in flamboyant style. Cash Money stood apart through luxury car convoys, matching chain medallions, and using hometown slang over booming bounce beats.
The collective showed out on the seven-times-platinum "Bedrock," "Only," and "I Made It (Cash Money Heroes)." This crew's love has extended to other Young Money Cash Money Billionaires, including Tyga, DJ Khaled, and the Rich Gang collective. Over 20 years after Cash Money's initial breakthrough, Juvenile and Cash Money co-founder Birdman's collaboration album showed that loyalty is royalty.
SO SO DEF
(Defeated Quality Control in Round 1 and defeated Dungeon Family in Round 2)
Even before building a record company, super producer Jermaine Dupri was hard at work building the So So Def crew. The son of a music executive and former Whodini dancer made waves by developing and producing Kris Kross. 1992's "Totally Krossed Out" topped the charts with two adolescents who rapped to funk-driven beats. The backward-clothes-wearing Mac Daddy and Daddy Mack landed on Michael Jackson tours (and videos), as they had the world jumping along to their hits.
By the time their sophomore album, "Da Bomb" was released, Jermaine brought Chicago's Da Brat onto the title single. Within a year, she would release a platinum debut featuring JD on its title track, "Funkdafied," and involving other So So Def crew members. Over the next decade, with Dupri at the helm (and launching his solo career), the So So Def family blossomed across iterations. Lil Bow Wow became the crew's next adolescent success story, responsible for several platinum releases.
On remixes since the collective's inception, the So So Def crew has brought their tight-knit allegiance, including renditions of Jagged Edge's "Where's The Party At?," Destiny's Child's "Jumpin' Jumpin'," and Dem Franchise Boyz' 2005 "I Think They Like Me" posse cut remix.
Despite pulling from Atlanta, Chicago, and Columbus, Ohio, the So So Def crew moved as a family—something that has existed regardless of the label releasing the music. So So Def has been an apt name for a crew whose musical legacy has endured for more than 30 years.
---
EDITOR's NOTE: Register for the sweepstakes for a chance to win the grand prize of (2) two tickets to the 2023 BET Awards, (2) two round-trip airline tickets, and a 2-night hotel stay on June 25. Up your chances to win by voting weekly.
NO PURCHASE NECESSARY TO ENTER OR WIN. VOID OUTSIDE OF THE 50 U.S. & D.C. AND WHERE PROHIBITED BY LAW. Open to legal residents of the 50 U.S. & D.C. who are 18 years of age or older at the time of entry. Ends at 12:00 p.m. ET on June 9, 2023. Official Rules: bet.com/grcoat-official-rules. Sponsor: Black Entertainment Television.