Harris vs. Pence Debate: Black Women Voters Emphatically Demand More From The Next Vice President
Wednesday's debate will determined which one of these candidates will actually move the country forward.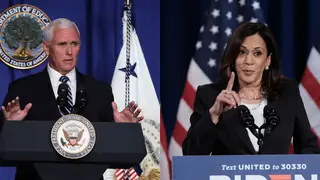 Throughout history, Black women have played an outsized role in pushing America toward a true democracy. Women like Sojourner Truth, Charlotte Forten Grimke, Mary Ann Shadd Cary, Fannie Lou Hamer, and Shirley Chisholm not only demanded the ballot and a say in our country's trajectory at a time when it was dangerous and considered radical to do so, they also pushed for labor, economic, health care and education policies that ultimately enfranchised more Americans of all backgrounds. 
Still today, Black women are functioning as key bridge builders who are attempting to close the gap between the America we are and the America we deserve. We're working hard to construct a country with policies and representation that is inclusive of the voices and experiences of all its citizens. This election season, Black women are listening for candidates who understand the value of our role in this work. We're keenly tuned in to the difference between those who want to offer us space in creating the blueprint for the bridge and those who will only go as far as handing us the tools to do the heavy lifting to build it or those who want nothing more than to step on our heads and hands as they trample over us.
During debates, Black women — who are among the country's most active voters — need to hear from candidates real ideas for moving the country forward. We need to know that we are casting our ballots for leaders who see us as partners in governance, rather than subjects to be governed. Thus far, only former Vice President Joe Biden and Senator Kamala Harris have articulated a platform and demonstrate a history of policies and legislative actions that speak to the concerns of most Black women voters. The Biden-Harris ticket is offering clear plans to address the most pressing matters for most of our communities, including COVID response, economic recovery, health care, community safety, criminal and racial justice, and climate change. 
Most importantly, Biden and Harris have shown a willingness to listen and bring America together. They share our vision of a bridge to the America we were promised. Meanwhile, the Trump-Pence ticket supports economic and tax policies that only benefit the wealthiest Americans, continues to divide our country on issues of race and COVID safety, and has provided no health-care plan except to eliminate ObamaCare.
This Wednesday, October 7 will be the first time that Americans will witness vice-presidential candidates Kamala Harris and Mike Pence in a head-to-head debate. The debates are hardly voters' sole measure of qualification, but they are an important indicator of the tone and vision of the party platforms. Black women will be watching for the kind of leadership we want – respectful, truthful, and inclusive. More urgent than ever, our assessment includes plans for tackling existential threats to our basic rights and safety – threats like systemic racism and gender discrimination. We want to move forward, not backward into regressive chaos.
America has spent 231 years do-si-doing around the freedom and equity guaranteed to all citizens by our Constitution. With the current election, we've reached a tipping point where the grand ideas articulated in that document are no longer enough to sustain and tether us together. People need to see these words made real in their daily lives through effective and affordable health care, equal pay, criminal justice reform, climate change action, the rooting out of systemic biases, and fair immigration policies among other changes. A smart and committed public leader will recognize this need and will and share plans for addressing it during the debate. They will meet their opponent with respect instead of the bullying and entitlement posturing that currently dominates our country's political conversations and policies.
Black women are tired of being relegated to manual labor and we will no longer accept being overlooked or trampled. We've shown our resolve in the ways we've successfully pushed back against attempts to stunt our power – whether it's efforts to deny us seats at decision-making tables, steal our votes, silence us during Congressional hearings, or dissuade us from seeking certain offices. We know and are forging the way forward.
Americans deserve elected officials who will partner with us to eliminate what's dividing us. Now more than ever, the gaps are widening, and we need competent, compassionate and committed leaders to close them. 
Tonight's debate will provide another opportunity for voters to compare and consider the actions and policies of a Biden presidency versus four more years of a Trump administration. It is our hope that the power of our voices and votes will shape the tone not only of this Wednesday's face-off between Harris and Pence but the outcome of the election and the future of our democracy.  
Glynda C. Carr is President & CEO of Higher Heights, the only national organization providing Black women with a political home exclusively dedicated to harnessing their power to expand Black women's elected representation and voting participation, and advance progressive policies.