Jamaicans Faced Racist Gunmen While Fleeing Ukraine, Students Say
'A Ukrainian actually put a gun to his head,' a Jamaican student recalled seeing his friend forced off a train.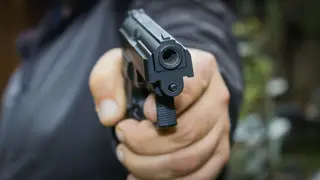 As Russia ramps up its military aggression in Ukraine, more than 1 million people fled the war-torn nation by Thursday (March 3) after one week of fighting, according to a United Nations estimate.
In the scramble to escape, the UN condemned widespread racist discrimination by Ukrainian officials against people of African descent who are trying to flee the country. Ukrainian Foreign Minister Dmytro Kuleba on Tuesday (March 1) acknowledged the discriminatory practices in a tweet, saying that his government "spares no effort to solve the problem."
Twenty-four Jamaican students studying in Ukraine were among the mass exodus from the country. Three of them shared their experience on Monday (Feb. 28) with local Jamaican cable network TVJ, including one student who was reportedly forced off a train by a Ukrainian at gunpoint.
They recalled awaking in a panic from the loud booms of missile strikes near their dorms. "All I could say in my mind was, this is it. This is the end," one student told TVJ. People ran out of the dorms to seek safety in the early days of the Russian invasion.
The students debated whether to stay in a bunker, where there was limited food and water, or to go above ground and attempt to flee Ukraine. They decided to leave the relative safety of the shelter and join the scores of people trekking to Ukraine's border in the hope of crossing into Poland.
In addition to evading Russian missiles, the students also had to deal with racism in Ukraine. "Armed forces" put them off a train that was headed to the border. One of the three students recalled seeing his friend threatened.
"A Ukrainian actually put a gun to his head and told him that he needs to get off the train so he couldn't get to Lviv (a city in western Ukraine). So because of that his journey got delayed and he had to come back to the train station another day in order to get on a train to Lviv," he told the news station.
They had to walk approximately 25 miles, about 10 hours of traveling by foot, to the border. During their journey, some Ukrainians offered them a ride part of the way, one student recalled.
"I didn't think I would make it," one of the three students told TVJ. She phoned her father in Jamaica to say that she might not make it back home. "My legs, I couldn't feel them because it was so cold," she said, adding that she was hungry and fetching a suitcase, as well as her beloved cat.
Jamaica's Minister of Foreign Affairs Kamina J. Smith shared the good news via Twitter Wednesday (March 2) that all the students escaped Ukraine safely and were being repatriated to Jamaica.