BET Awards 2023: The Soul! The Vocals! Ten Of Patti LaBelle's Greatest Hits
Miss Patti has taken us over the rainbow for over six decades.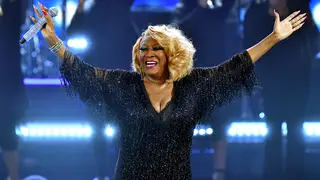 This year marks 60 years since Patti LaBelle first released music. Over the decades, from the Blue Belles to Labelle to an epic solo career, Miss Patti has given us music that has defined generations over the years. And on Sunday, she had everyone on their feet during the BET Awards 2023, as she paid tribute to Tina Turner.
This playlist showcases some of Patti LaBelle's biggest hits and includes a mix of her soulful ballads, energetic dance tracks, and empowering anthems. Enjoy the incredible talent of Patti LaBelle!
"Lady Marmalade" (1974)

With her group, Labelle (Nona Hendryx, Patti LaBelle, and the late-great Sarah Dash), "Lady Marmalade" became one of the biggest hits of her career and is a must during her live shows. The 2001 remake for Moulin Rouge, sung by Christina Aguilera, Maya, Pink, and Lil' Kim won a Grammy. Still, the Labelle version is the one that the Library of Congress added to the National Recording Registry in 2020.

"You Are My Friend" (1978)

Co-written by Patti LaBelle, "You Are My Friend" is a soulful piano-driven song from her 1978 debut. The track is dedicated to her son Zuri Edwards.

"If Only You Knew" (1983)

Released as a single from her album I'm in Love Again, "If Only You Knew" is Patti LaBelle in all her greatness. This emotional ballad, tells a story of unrequited love. LaBelle's ability to convey heartache and longing through her voice is truly mesmerizing, making this song stand out in her discography.

"New Attitude" (1984)

A standout track from the film Beverly Hills Cop, "New Attitude," is an infectious and empowering anthem released in 1984. LaBelle's commanding vocals and the song's catchy melodies combine to create a high-energy classic. "New Attitude" became an instant hit and remains a favorite among fans.

"If You Don't Know Me By Now" (1985)

Initially recorded by Harold Melvin and the Blue Notes, this is a song Miss Patti famously turned down. However, she would record the ballad in 1985. LaBelle's rendition remains one of the definitive versions.

"On My Own" (1986)

In 1986, Miss Patti released her eighth studio album, Winner in You, and delivered the iconic single "On My Own," a duet with Michael McDonald. To date, it is Miss Patti's only No. 1 single of her career. The song earned a 1986 Grammy nomination for Best Pop Vocal Performance By a Duo or Group.

"Feels Like Another One" (1991)

Arguably one of the best intros of all time, this first single from the Burnin' album charted at No. 3 on the Billboard R&B chart. The song also had Patti diving into hip-hop with the legendary Big Daddy Kane on the remix. 

"When You've Been Blessed (Feels Like Heaven)" (1991)

Patti LaBelle's roots are church and the empress of soul took us right to the church with this inspirational song. Also from the Burnin' album, this song was co-written by Miss Patti and former group member Nona Hendryx.

"The Right Kinda Lover" (1994)

From the album Gems, "The Right Kinda Lover" is a standout track that showcases LaBelle's versatility as an artist. Released in 1994, this R&B hit featured her signature soulful style. The song charted at No. 8 on the Billboard R&B chart and the video frequently aired on BET's Video Soul. 

"Over the Rainbow"

Patti LaBelle has been belting out this E.Y. Harburg-penned song since she was with The Blue Bells. Initially recorded by Judy Garland for the 1939 movie The Wizard of Oz, LaBelle's heartfelt rendition of this timeless classic demonstrates her ability to infuse emotion and power into any song she performs. See one of the fantastic performances above.