Mary J. Blige And Alicia Keys Join Forces In Powerful Police Brutality PSA
The singers joined other celebs to speak out about the issue in a video montage.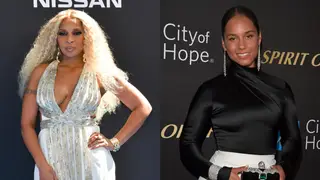 On Monday (Jan.18) NowThisNews uploaded the video montage that addressed the horrific ways that Black and brown lives have been lost at the hands of police. The video titled "17 Ways Black People Are Killed in America" spotlights Breonna Taylor, Elijah McClain, Botham Jean and others who have been victims of police brutality. 
A similar video was published in 2016 highlighting other victims.  
"I can't believe I'm back four years later with 17 more ways you can be killed," says Keys. 
The story of 23-year-old Elijah McClain is mentioned by Blige, who says that the unarmed young man was walking down the street before he was placed in a chokehold by Aurora police in Colorado on Aug. 24, 2019. After being forcefully pinned on the ground for 15 minutes, McClain suffered a heart attack after being injected with ketamine. He was left in a coma and removed from life support six days later. 
McClain's parents Sheneen McClain and Lawayne Mosley sued several Aurora police officers, a paramedic and a medical director of Aurora in 2020. They alleged excessive force, failure to provide medical care and negligence. 
The defendants of the case have since asked that the suit be dismissed claiming there was no underlying constitutional violation.
Rapsody, Offset, Keke Palmer, Quavo, T.I. and Tameka "Tiny" Harris and others also list the names of other victims of police brutality. 
NowThis reports that more than 1,000 people were killed by current or former police officers in 2020.