BET Awards 2023: 5 Most Mesmerizing Gospel Performances
These artists brought the celebration of gospel to the center stage.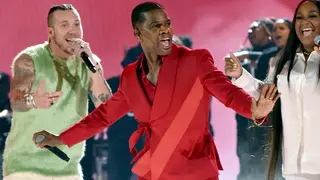 The BET Awards, renowned for celebrating excellence in Black entertainment, have witnessed some genuinely unforgettable gospel performances throughout the years. From the soul-stirring vocals to the uplifting messages, these performances have touched the hearts and spirits of audiences all over.
From Kirk Franklin and rapper Lil Baby's jubilant praises that ascend to the heavens to Kierra and  Karen Clark Sheard's awe-inspiring vocal talent that transcends earthly limitations, these standout gospel performances have etched themselves into the collective memory of those fortunate enough to witness them.
These five unforgettable gospel performances at the BET Awards are a testament to the indomitable spirit and transformative power of music that unites and elevates us all.
Kirk Franklin and Lil Baby Open the 2022 BET Awards

Gospel legend Kirk Franklin and Atlanta-based rap star Lil Baby delivered a stellar opening performance with their single "We Win" at the 2021 BET Awards hosted by the incomparable Taraji P. Henson. The following year, the duo would take home the win the Dr. Bobby Jones Best Gospel/Inspirational Award."

Kierra and Karen Clark Sheard Close the 2020 BET Awards

Karen Clark Sheard and her daughter Kierra Sheard closed out the 2020 BET Awards with a powerful performance of "Something Has to Break." It was a heavenly way to yet another fantastic celebration.

Kirk Franklin, Jonathan McReynolds, Erica Campbell, and Kelly Price

Franklin brought several of his gospel peers for an extra exceptional performance of his record, "Love Theory." Artists included Jonathan McReynolds, Erica Campbell, and Kelly Price.

Jamie Foxx, Snoop and Tye Tribbett

Academy Award-winning actor and singer Jamie Foxx concluded the 2018 BET Awards with an unforgettable gospel experience. The veteran entertainer teamed up with Snoop Dogg and gospel legend Tye Tribbett  for a special performance of "Everything's Gonna Be Alright."

Kirk Franklin and Maverick City

It's safe to say Franklin has been a staple at the BET Awards. The industry veteran made his return to the stage at the 2022 ceremonies with gospel's newest stars, Maverick City, for their song, "We Win," off the soundtrack for Space Jam: A New Legacy.

The  BET Awards 2023 premieres Sunday, June 25 at 8 pm ET/PT on BET and BET Her.