Bring That Week Back: Eminem Files Legal Docs Against 'Potomac' Stars, Actor Ben Stein Has Complaints About Aunt Jemima And Brittney Griner Will Return To Basketball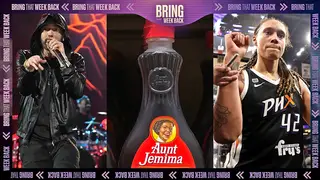 Brittney Griner is ready to once again conquer the basketball court. Eminem and stars of The Real Housewives of Potomac was a legal feud no one saw coming. Actor Ben Stein goes viral for all the wrong and offensive reasons. Here is this week's Bring That Week Back.
Brittney Griner Returning To The Basketball Court This Year

According to ESPN.com, Brittney Griner signed a one-year, $165,100 contract to once again play for the Phoenix Mercury in the upcoming 2023 season. While it was expected she would sign with the team she has played with since 2013, the news comes almost three months after the 32-year-old Mercury center returned from being detained in Russia.

Actor Ben Stein Complains That A 'Large African American Woman' In No Longer The Face Of Aunt Jemima

Ben Stein, 78, went viral Feb. 14 after he posted a video complaining about Aunt Jemima syrup, "Now this used to show a large African American woman chef [but] because of the inherent racism of America's corporate culture, they decided to make the White person or maybe no person at all, but I preferred it when it was a Black person showing their incredible skill at making pancakes. So God bless you all and have a good evening."

The original Aunt Jemima character was based on a minstrel show song called "Old Aunt Jemima" which was performed by white actors in blackface. The character was designed to be a caricature of an enslaved person or a servant. Historians say Aunt Jemima was based on a formerly enslaved Black woman and storyteller named Nancy Green, who first embodied the character for the brand. Green died penniless in 1923. In 2021, the pancake syrup changed its name to Pearl Milling Company and removed the Aunt Jemima image.

Eminem Files Legal Docs Against Two 'Real Housewives of Potomac' Stars

Eminem is filing an opposition against RHOP stars Robyn Dixon and Gizelle Bryant's trademark application for "Reasonable Shady," the name of their popular podcast, which launched in 2021. According to legal documents filed on February 14 and obtained by Page Six, the Detroit-raised rapper says his brand will be "damaged" if the Real Housewives of Potomac stars are issued the trademark. Dixon and Bryant recently filed a trademark over their podcast's name with the intent of being able to sell products, such as water bottles, apparel, and lip gloss. Em also claimed the name could "cause confusion in the minds of consumers," who have known him by the nicknames Slim Shady and Shady. Eminem currently owns the trademark for "Shady" for use on his own merchandise. Dixon and Gizelle Bryant have yet to publicly respond.

Jennifer McClellan Becomes First Black Woman From Virginia Elected To Congress

Virginia state Sen. Jennifer McClellan made history by becoming the first Black woman to be elected to the U.S. House of Representatives from the Commonwealth. Virginians chose the veteran legislator to fill the seat left open after Rep. Donald McEachin, who had just been elected to a fourth term, died in November of colorectal cancer. Her opponent in the race was a pro-Trump Republican Leon Benjamin who ran for the seat twice before. McClellan won with more than 74 percent of the vote, according to state election commissions figures.

Don Lemon Returns to CNN

After more than a week of backlash, Don Lemon returned to the CNN anchor chair on Feb. 22 after being suspended for sexist comments. He will be required to complete training upon his return, according to an email to employees from CNN CEO Chris Licht, who sent an email to employees on Monday explaining the situation. Lemon's comments came during a discussion about South Carolina Gov. Nikki Haley, who after recently announcing her presidential candidacy appeared to attack older politicians and said there needs to be a "generational change." Lemon said that Haley, 51, "isn't in her prime" because she is no longer in her forties.

Ariana DeBose's Angela Bassett And Viola Davis Shout Out Goes Viral

Ariana DeBose showing some love to Angela Bassett and Viola Davis at the 2023 BAFTA awards on Sunday (Feb. 19) made her the latest viral sensation. Performing her own musical theater rap rendition of the Eurythmics 1985 song "Sisters Are Doin' It for Themselves" featuring Aretha Franklin, the Oscar-winning actress shouted out Angela Bassett and Viola Davis, "Angela Bassett did the thing. Viola Davis, my Woman King." The clip has taken over social media, watch above.

Man Convicted Of Murdering Nipsey Hussle Sentenced

On February 22, a Los Angeles judge sentenced Eric Holder,33, the man convicted of murdering Nipsey Hussle in March 2019, to 60 years to life in prison. According to the Associated Press, Superior Court Judge H. Clay Jacke II handed down the sentence to Holder, who was found guilty last July of first-degree murder. He shot the Grammy-nominated hip-hop artist and community leader outside of Marathon Clothing story, which he founded in South Central Los Angeles. Holder shot the rapper, born Ermias Asghedom, at least 10 times and kicked him in the head before running away. Hussle was 33 years old.

R. Kelly Given New Federal Sentence

On Feb. 22, disgraced singer R. Kelly was sentenced after he was found guilty in a Chicago federal court of producing child pornography and enticing girls for sex. U.S. District Judge Harry Leinenweber gave him, but he will serve concurrently with a 30-year sentence for racketeering and sex trafficking crimes in New York. Kelly won't spend more than 31 years in prison and will be eligible for parole around the age of 80, giving him a small chance of leaving prison alive.