BET Awards 2023: The 5 Most Memorable R&B Performances in BET Awards History
How many of these epic performances do you remember?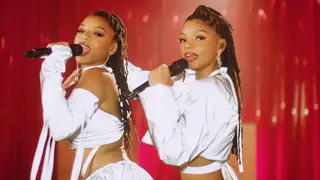 The BET Awards have been a platform for extraordinary musical performances, and when it comes to r&b the stage has witnessed some truly unforgettable moments. These performances have left an indelible mark on BET Awards viewers, from captivating vocals to electrifying stage presence. These vintage r&b  performances showcased the talent, artistry, and undeniable impact of the incredible artists who delivered them. Prepare to be transported on a soulful journey through some of the most unforgettable r&b moments in BET Awards history. And don't forget to catch culture's biggest night happening LIVE on BET on Sunday, June 25, 2023, at 8 PM ET/ 5 PM PT.
Usher

Usher's BET Awards 2002 performance was a jaw-dropping display of his unmatched showmanship and impeccable vocal prowess. With electrifying choreography, flawless vocals, and an undeniable stage presence, Usher left the audience in awe, solidifying his status as an r&b  icon.

Missy Elliott & Ciara

Missy Elliott and Ciara's BET Awards 2005 performance was a show-stopping hip-hop and r&b collaboration that left viewers in awe of their unmatched energy and creativity.

Janet Jackson

Musical icon Janet Jackson gave us the ultimate r&b-pop experience during her BET Awards 2004 performance.

Chloe X Halle

Chloe X Halle's BET Awards 2020 performance was a mesmerizing display of their immense talent and captivating stage presence.

B2K

B2K's BET Awards 2003 performance was a high-energy spectacle that showcased their undeniable talent and charisma. With synchronized dance moves, harmonious vocals, and an infectious stage presence, B2K delivered a memorable performance with the audience dancing and singing along to their hit songs.

The BET Awards 2023 premieres Sunday, June 25 at 8 pm ET/PT on BET and BET Her.