Georgia Republicans Vote For Statue Of Supreme Court Justice Clarence Thomas
Democrats are slamming the monument, which would be in his hometown of Pin Point, Georgia.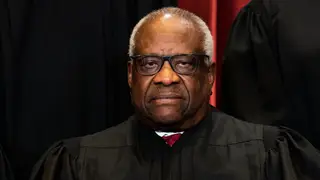 In recent years, the issue of statues and monuments, and what they symbolize have become increasingly controversial. Many cities and states have taken steps to remove statues seen as glorifying people or events that are now widely considered morally problematic.
However, in Georgia, the Republican Party has shown its support for a new statute of controversial Supreme Court Justice Clarence Thomas, regardless of the criticism.
The Associated Press reports the Georgia state Senate voted 32-20 for Senate Bill 69. The bill, which had been hotly debated for weeks, would mandate the construction of a statue of Justice Thomas in Pin Point, Georgia, where he is originally from. Democrats in the state senate had proposed amending the measure to include a statue of the late Georgia congressman John Lewis but then pulled back the amendment.
"This native son of Georgia deserves a place of honor and recognition on our Capitol grounds, a place where future generations of Georgians can learn valuable lessons from his legacy and gain inspiration and belief that their lofty dreams are obtainable too in America, regardless of the circumstances into which they are born," Georgia State Sen. Ben Watson, told his colleagues, according to the AP.
But there was plenty of opposition from Democrats. "There's a whole laundry list of positions that Justice Thomas has taken that I find offensive," State Sen. Emanuel Jones, said. "Sometimes, when I talk to the majority party, I say, 'Y'all just don't get it.'" Jones also called Thomas an "Uncle Tom," and said that he "sold his soul to the slave master."
State Sen. Nan Orrock of Atlanta added, "His service is problematic. There's a cloud over his service … and that cloud continues today."
The debate over the Clarence Thomas statue is part of a larger conversation about the role of statues and monuments in public spaces. Some argue that statues of figures like Thomas are essential to preserving a sense of history and celebrating important contributions to society, while others maintain that these statues glorify individuals who have held deeply problematic views.
Thomas is one of only three African American justices to serve on the Supreme Court, and he is widely regarded as a conservative legal thinker. He has also been a lightning rod for controversy throughout his career, with some lauding his commitment to conservative principles and others criticizing him for his views on race, gender, voting rights, affirmative action, and his wife's alleged involvement in attempting to overturn the 2020 presidential election.
Senate Bill 69 will now move to the state House for additional debate.