Ari Lennox Tweets About Being Arrested In Amsterdam Airport
The 2021 Soul Train Award performer says she was racially profiled.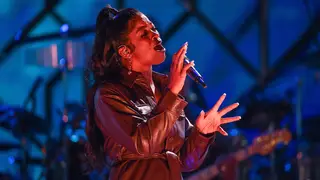 Ari Lennox, the wildly popular R&B singer with Dreamville Records, tweeted that she was arrested at Amsterdam Schiphol airport on Monday. Reuters reports that Dutch military police arrested Lennox for disturbing public order but she is telling a different story. According to her tweets, Lennox is accusing a woman who is part of the airline staff of racial profiling suggesting that is what ultimately led to her arrest.
"I'm being arrested in Amsterdam for reacting to a woman racially profiling me," Lennox wrote on Twitter early Monday morning, following a tweet in which she had accused "Amsterdam security" of hating Black people.

Dutch military police, who are responsible for security at Schiphol airport, held Lennox because of her aggressive behavior towards the airline official, and for being drunk in public. "Our unit found a woman full of emotions that would not calm down," spokesman Robert van Kapel said.

"That's why she had to be taken into custody."

There has yet to be an update as to how long the "Pressure" singer would remain in custody, as police are investigating claims of possible threats made by her during the incident.
She later tweeted more specifics about the incident, where she said, "I just want to go home. I'll never leave my house again."
The incident comes shortly after Lennox's taped appearance on the 2021 Soul Train Awards on Sunday, Nov. 29, where she shared the stage with Summer Walker for "Unloyal," and performed her latest single, "Pressure."

It is unclear what exactly happened between the singer and security, as she has not provided updates since her early morning tweets.

This is a still-developing story.